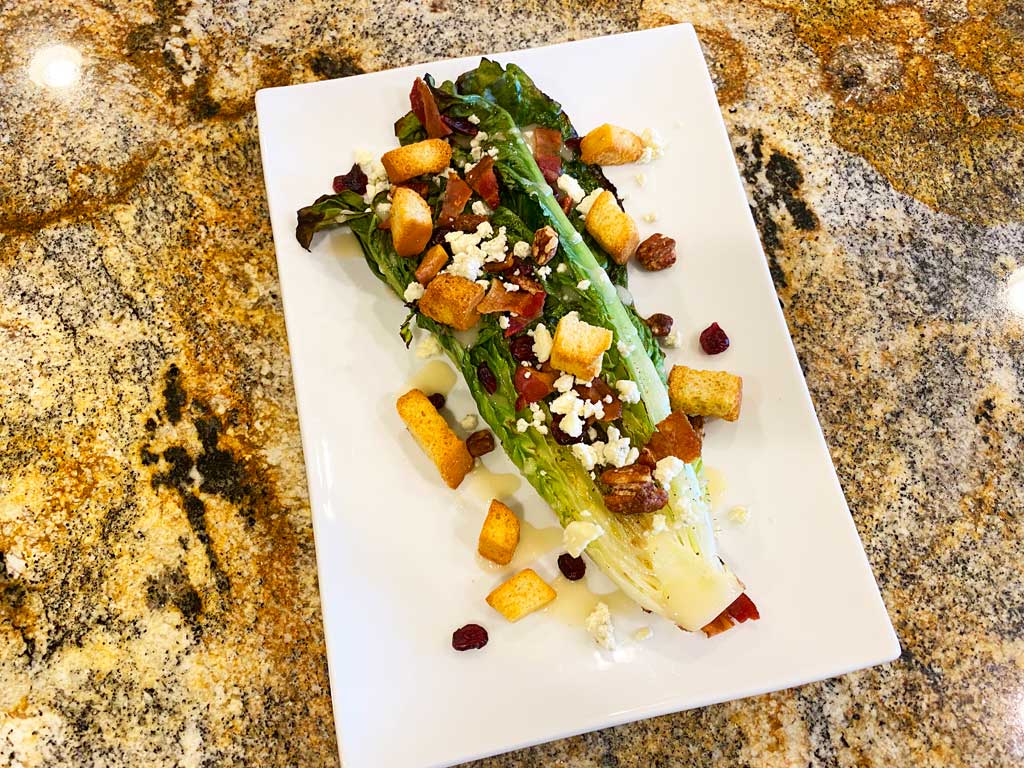 In January 2018, I visited Disneyland Park in Anaheim and had dinner at the River Belle Terrace restaurant in Frontierland. The spareribs were horrible, but the house salad was delicious. It consisted of arugula, apple, dried cranberries, gorgonzola, candied pecans, and a side of apple vinaigrette.
When I recently decided to try my hand at grilled romaine lettuce, the obvious choice was to dress it like a Caesar salad…at least that's what most recipes do. Caesar dressing, shaved parmesan cheese, crispy croutons, and you're done.
Well, I'm sure that would be easy and delicious, but my mind wandered back to that sweet salad I had at Disneyland. How about using it as inspiration for a grilled romaine lettuce salad prepared using the Weber gas grill?
Ingredients List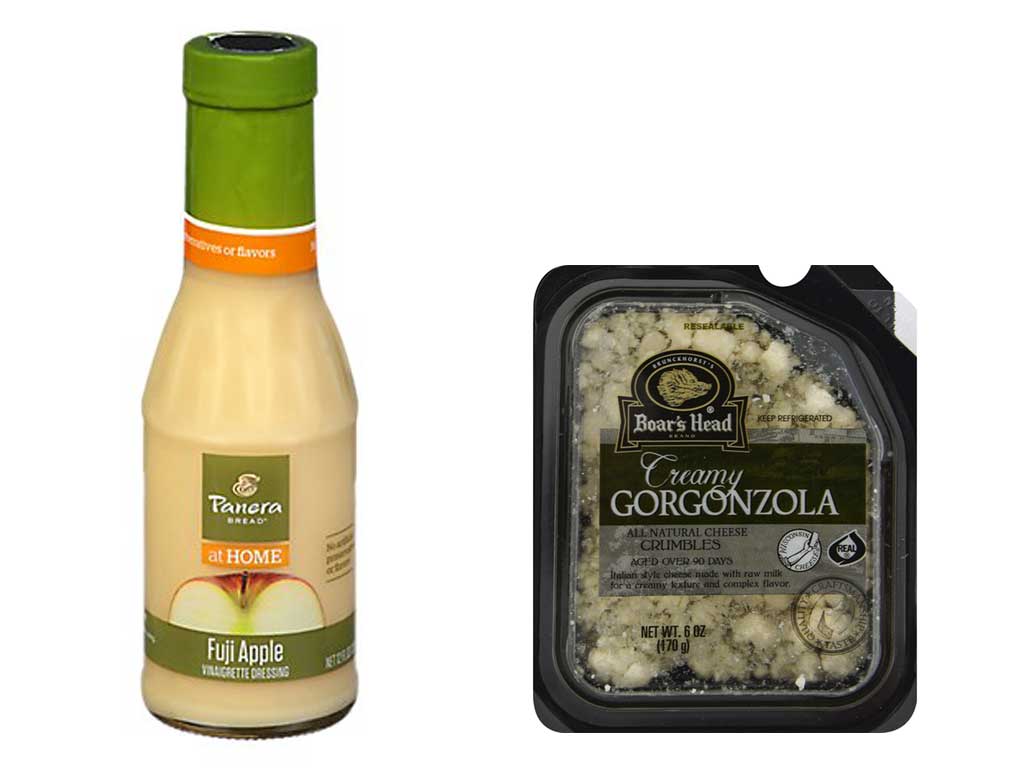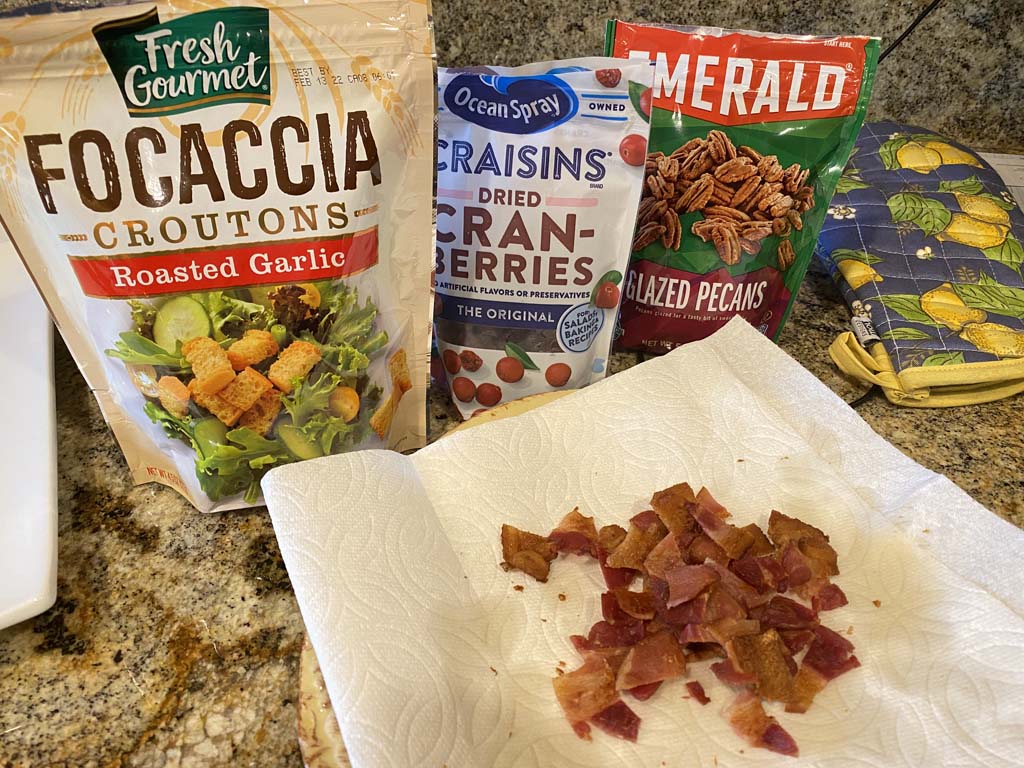 The ingredients are straight-forward:
Two romaine hearts, rinsed, dried, and cut in half through the stem
Panera Bread at Home Fuji Apple Vinaigrette Dressing (purchased at Safeway, found in the refrigerated salad dressing case)
4-6 strips of thin bacon, cooked crispy, drained, and cut/broken into small pieces (not part of the Disneyland salad, but everything's better with bacon!)
Creamy gorgonzola crumbles
Dried cranberries
Candied pecans
Garlic-flavored croutons
Olive oil
Freshly ground black pepper
Kosher salt
Preparation
Preheat your Weber gas grill for 10 minutes with all burners on MEDIUM. Use a grill brush to clean the grates.
Lay the romaine hearts cut-side up on a rimmed baking sheet pan. Drizzle moderately with olive oil and season with freshly ground black pepper and kosher salt.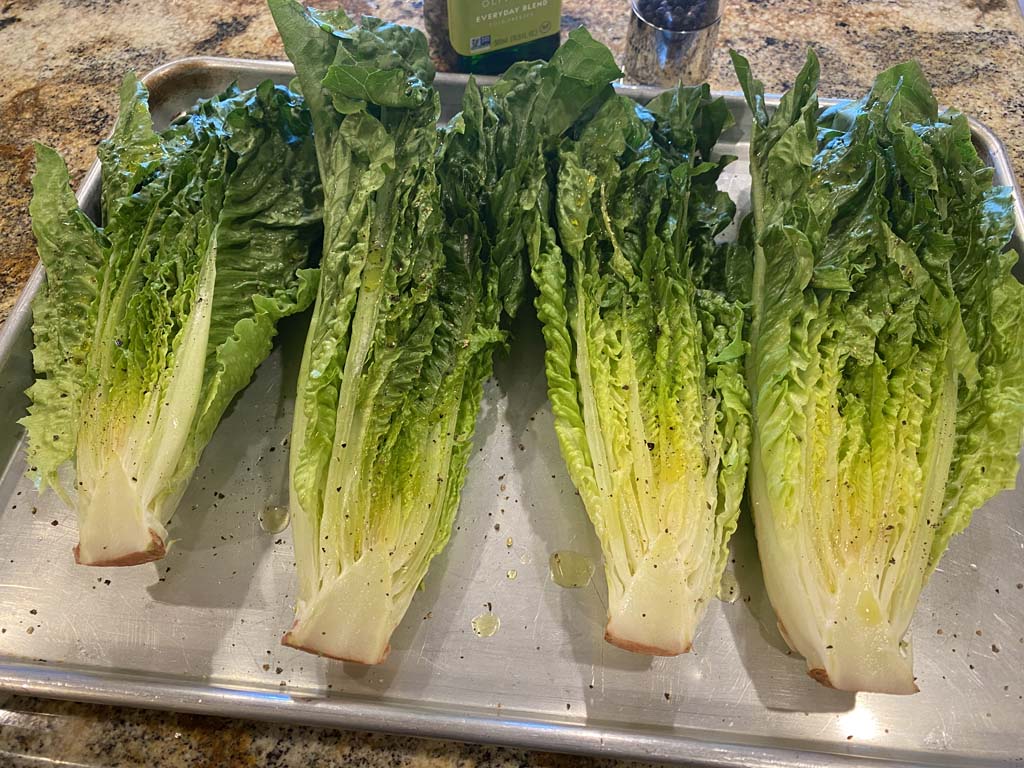 Use tongs to carefully place lettuce cut-side down on the cooking grate and grill for 1 minute.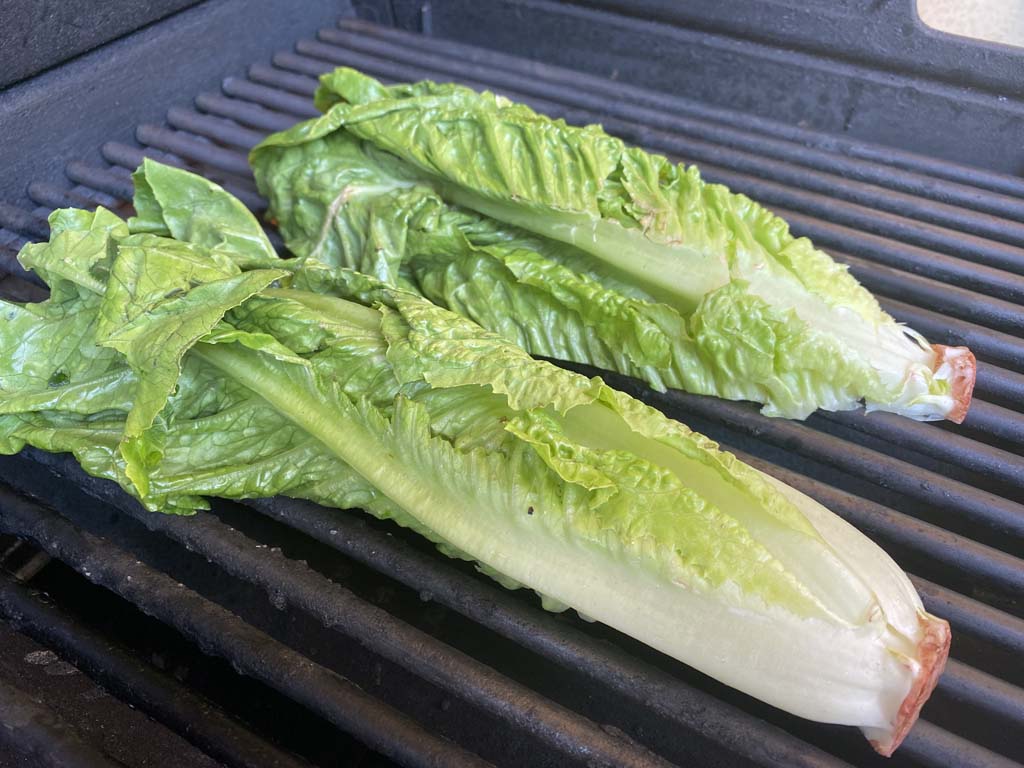 Turn lettuce over and grill for another 1 minute. If you want more char, grill a bit longer on the first side before turning the lettuce. In this photo, it doesn't look like much charring, but it was enough for me.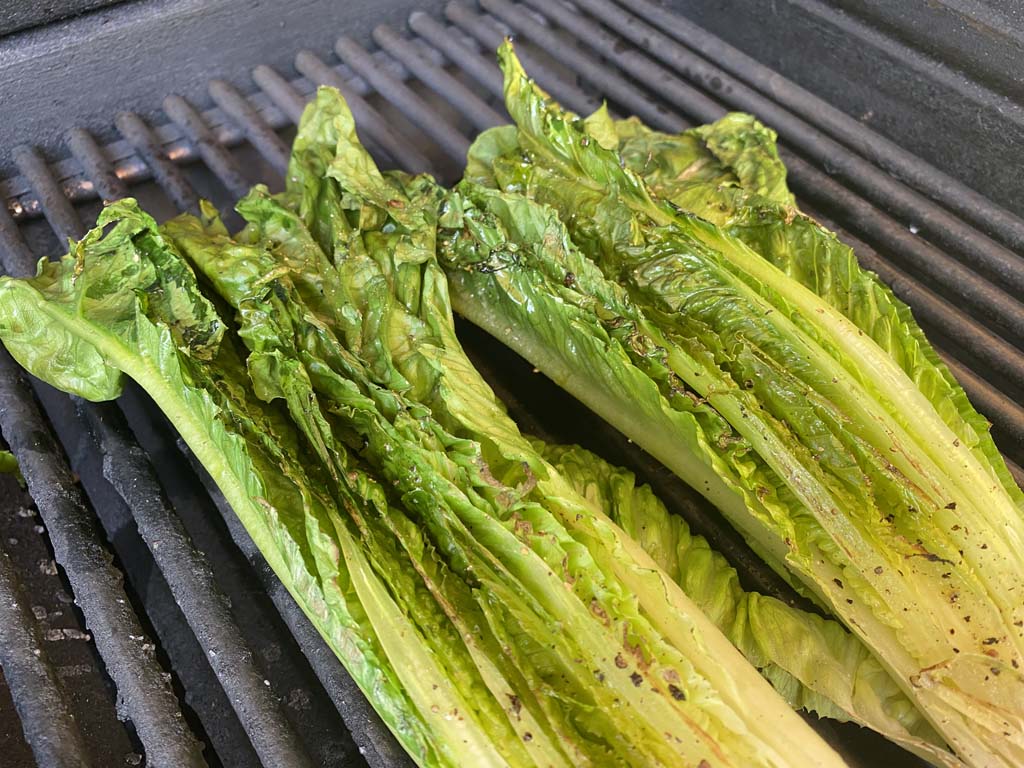 Transfer grilled lettuce back to the rimmed baking sheet pan. In the kitchen, place lettuce cut-side up on individual serving plates.
Pour vinaigrette into a squeeze bottle and apply to the lettuce in a zigzag pattern. Add bacon pieces, gorgonzola crumbles, dried cranberries, candied pecans, and croutons to your liking. Served immediately while the salad is warm.
Results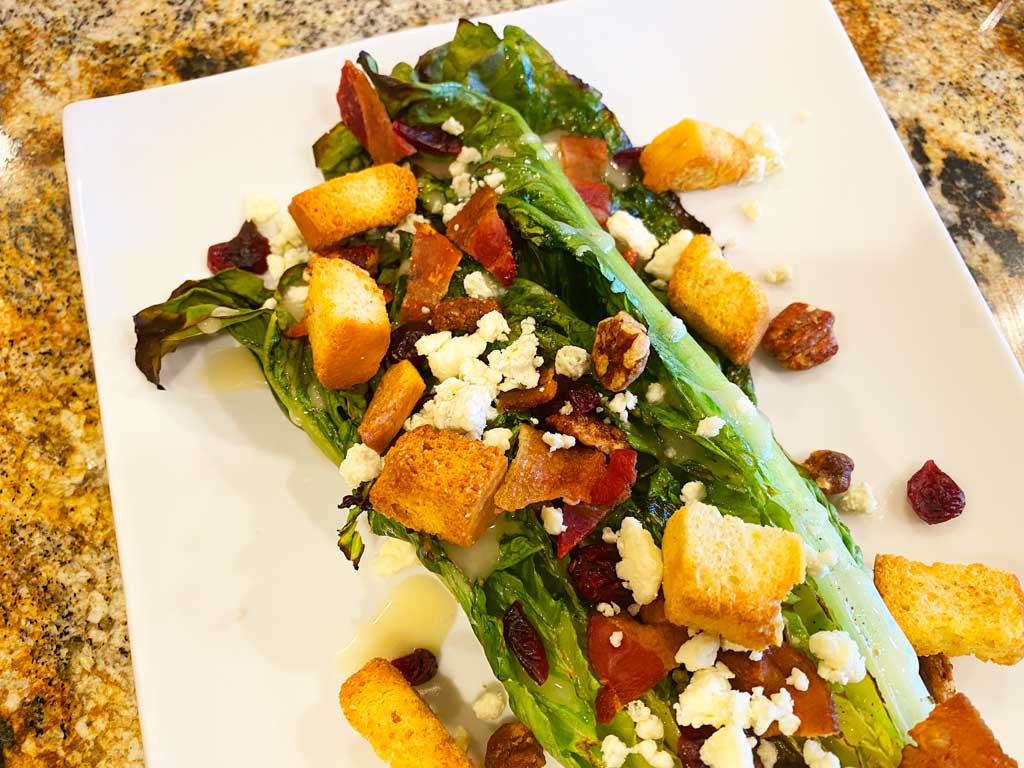 You'll be surprised by the aroma and flavor you get from the charred lettuce. It's kind of smoky, kind of grassy, and there's textural contrast between the wilted parts and crispy parts of the romaine. It's a nice departure from the usual cold, crispy, one-dimensional romaine salad we're all used to.
While this salad did not quite transport me back to Disneyland, watching the Mark Twain riverboat sail the Rivers of America, it did bring back some good memories and was a surprisingly tasty salad.
Try grilling some romaine hearts. Whether you follow my recipe or go with a traditional Caesar approach, I think you'll enjoy the change of pace!