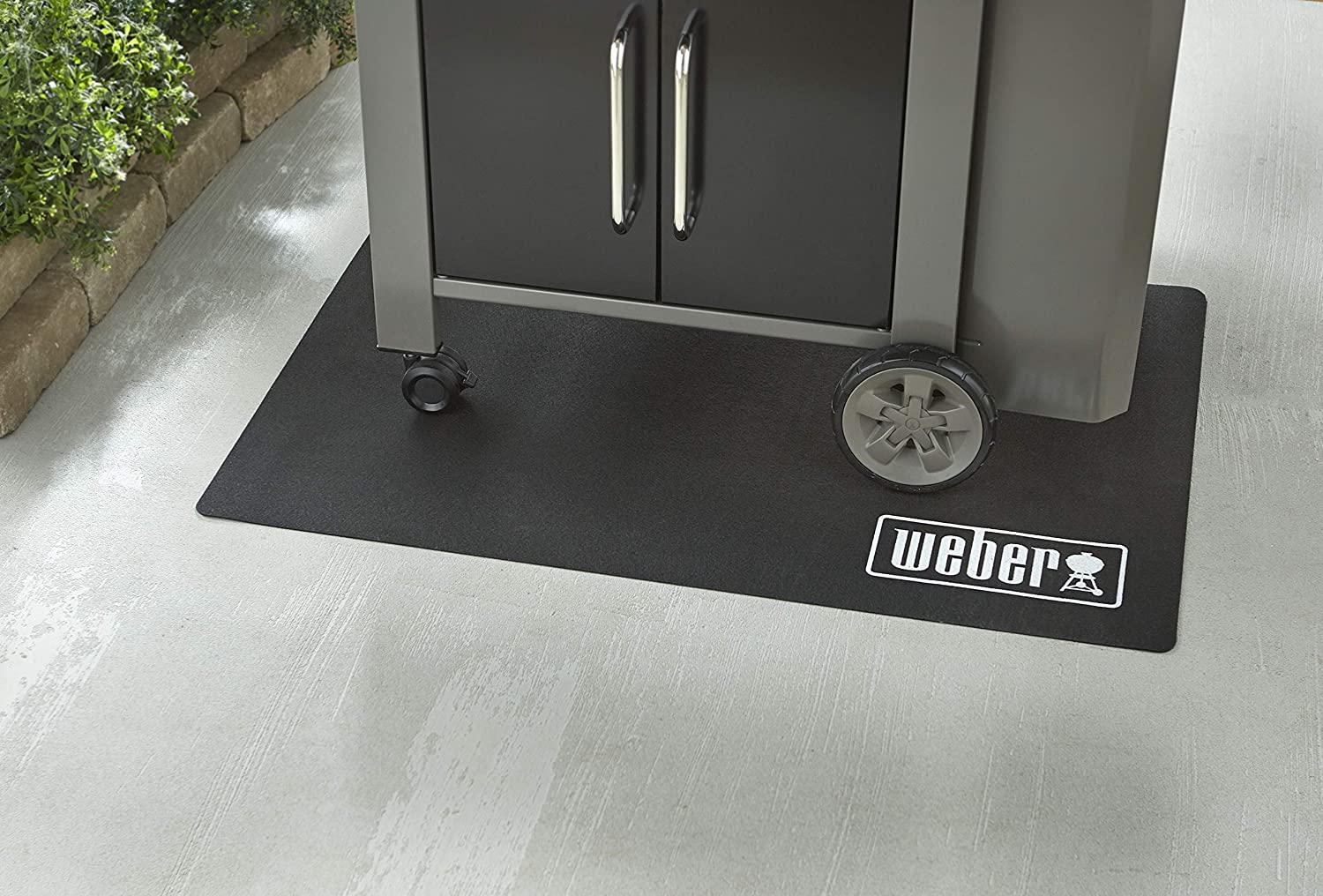 In March 2022, Weber introduced a new accessory that some grill owners will find useful: The Weber 7696 Floor Protection Mat.
This black mat measures 47.2″ x 31.5″ (120 x 80 cm) and features the Weber logo in white print on the bottom right corner.
Weber says about this mat:
Large surface area protects and covers the surface beneath your grill
Heat resistant and weather resistant
Anti-bacterial and quick drying​
Smooth surface makes rolling up and storage easy​
Compatible with a variety of grill sizes from an 18" kettle to a 4-burner gas grill
Weber's U.S. website does not list the composition of the mat, but their U.K. website lists the materials as:
Top: 100% Polypropylene
Back: rubber PVC & phthalate free
Of course, there's no guarantee that the U.S. mat has the same composition, but it's likely that Weber is selling the same mat worldwide.
It is interesting to note that Weber sells this mat in the U.K. in two sizes: 120 x 80 cm (same as the U.S. 47.2″ x 31.5″ mat) and a larger 180 x 100 cm version (70.9″ x 39.4″). In my opinion, the larger version would be better for gas grill owners, as drips and spills usually occur around the grill, not under it. Maybe Weber will offer the larger version in the U.S. at a future date.
The Weber 7696 Floor Protection Mat is available at Weber.com and sells for $43.99. It's also available at Amazon.com (price varies depending on availability). That's about double the price for comparable mats from other providers, but that's the price you pay for a Weber-branded mat!
If you purchase one of these mats and want to share any comments about its quality or performance, please post them in the Weber Accessories forum at The Virtual Weber Bulletin Board.