On January 18, 2023, Weber announced several new grills for the 2023 model year, including a new entry in the popular griddle category, a tweaked SmokeFire pellet grill, and a new line of electric grills.
Weber Griddle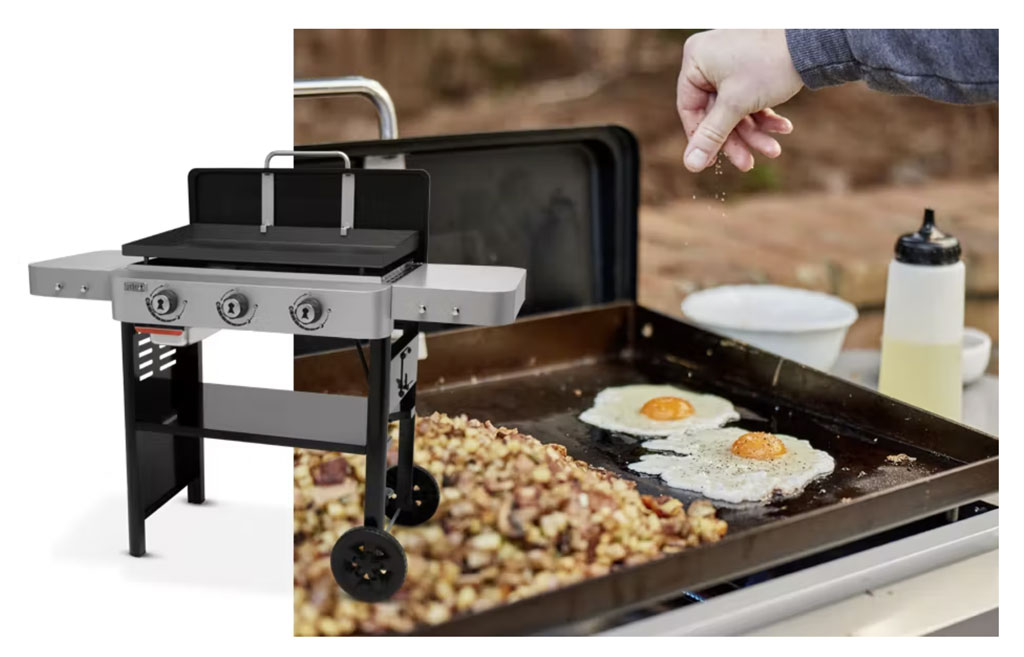 Details are still sparse about the new Weber Griddle, but the company says it's "full-sized" and features "a specially engineered 3-burner system" with an open cart design and two side tables. At first glance, it looks like a griddle with a shallow lid has been retrofitted to a Spirit gas grill
Weber says, "This high-performance griddle is designed to provide fast, even heat from edge-to-edge. Quickly reaching searing temperatures over 500˚ F, it's just what you need to cook batch of burgers on a busy weeknight or breakfast on the weekend."
Weber's press release also mentions "a high-capacity grease management system easily accessed in the front of the griddle for less mess during cleaning."
The Weber Griddle will be available in Spring 2023. The price has not been announced at this time.
Full-Size Griddle Accessory for Weber Spirit & Genesis Grills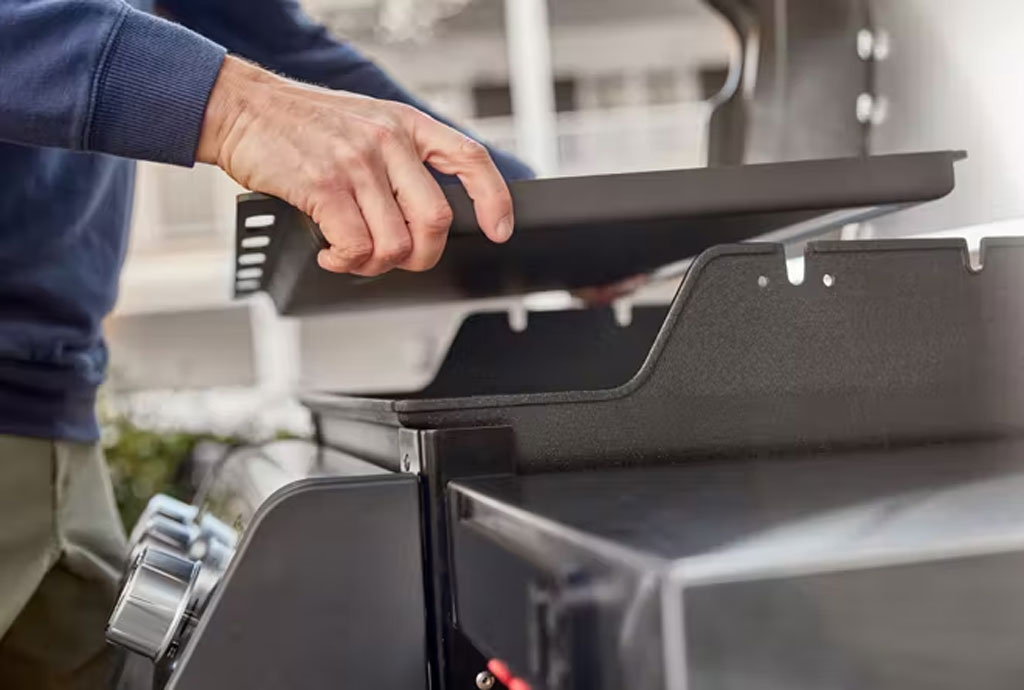 If you own a recent Weber Spirit or Genesis gas grill and want full-width griddling capabilities, Weber's got you covered. In Spring 2023, they will start offering a full-sized griddle accessory.
Weber says, "Griddle whenever you want on the grill you already have with the Spirit and Genesis Full-Size Griddles. Engineered to seamlessly fit your 2016 and newer Genesis and Spirit grills, you can transform the entire grilling surface in seconds."
The price of this accessory has not been announced at the time of this writing.
Griddle Tools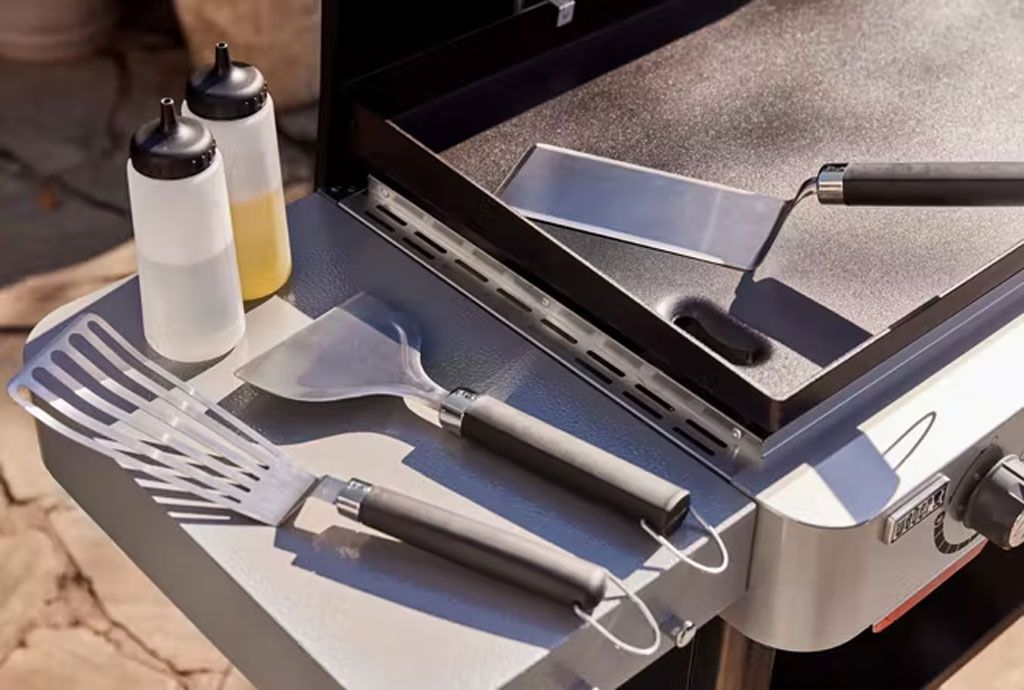 The griddle hit parade continues with a series of griddle-oriented tools. "From new spatulas to a griddle press, our new griddle tools are designed to help you create delicious pancakes, fajitas, paninis and more, and make clean up a cinch."
A complete list of tools and their pricing is unknown at the time of this writing, but the press photo shows what appears to be a flexible spatula (similar to a fish turner), a griddle scraper, a rather sturdy-looking burger spatula, and condiment bottles for water or oil. The aforementioned griddle press is not shown, but one might reasonably assume it will be larger in size than the existing Weber 5479 Grill Press.
Also mentioned in Weber's press release are egg rings and a basting dome.
Weber SmokeFire Sear+ Wood Pellet Grill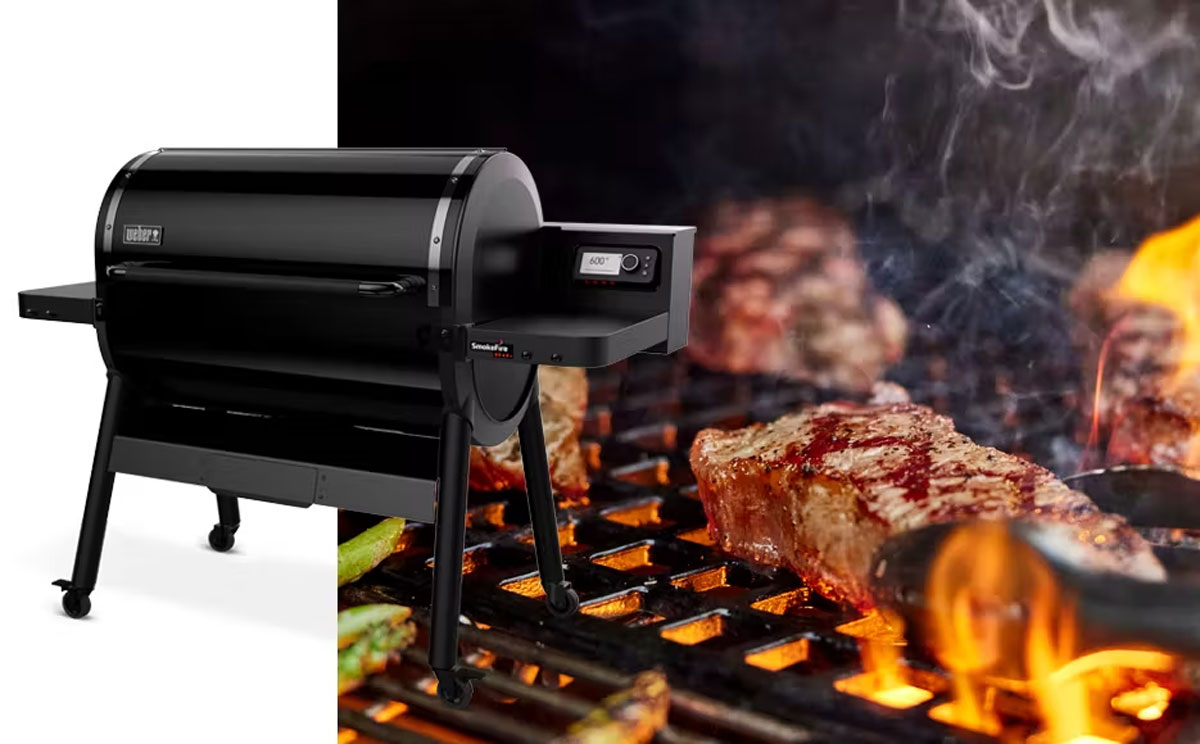 If you've been following the up and down story of the Weber SmokeFire pellet grill, you know the product got off to a rocky start in early 2020. But over the last few years, there have been improvements to the control software and the physical design of the product that make this a popular grill for those wanting the ease and convenience of cooking with wood pellets under the Weber badge.
So in Spring 2023, Weber introduces two updated grills called SmokeFire Sear+. Like existing SmokeFire grills, the Sear+ comes in two versions–the 24″ ELX-4 and 36″ ELX-6. These grills are all-black on the outside (no chrome) like today's SmokeFire Stealth edition. (It's my understanding from a post by a Weber insider on The Virtual Weber Bulletin Board that existing Stealth grills are no longer being sold, I assume replaced by these new Sear+ grills.)
These new grills feature:
An extra-large, folding top cooking grate for more room and grilling flexibility.
An additional side table with tool hooks.
Grate hooks that simplify storing the main and top cook rack.
The Weber CRAFTED Outdoor Kitchen Collection Dual-Sided Sear Grate, an extra-large porcelain enamel grate designed for larger foods on one side and smaller, more delicate items on the reverse side.
Sear+ is compatible with other accessories in the Weber CRAFTED Outdoor Kitchen Collection.
Pricing on these grills was not available at the time of this writing.
Weber Lumin Electric Grills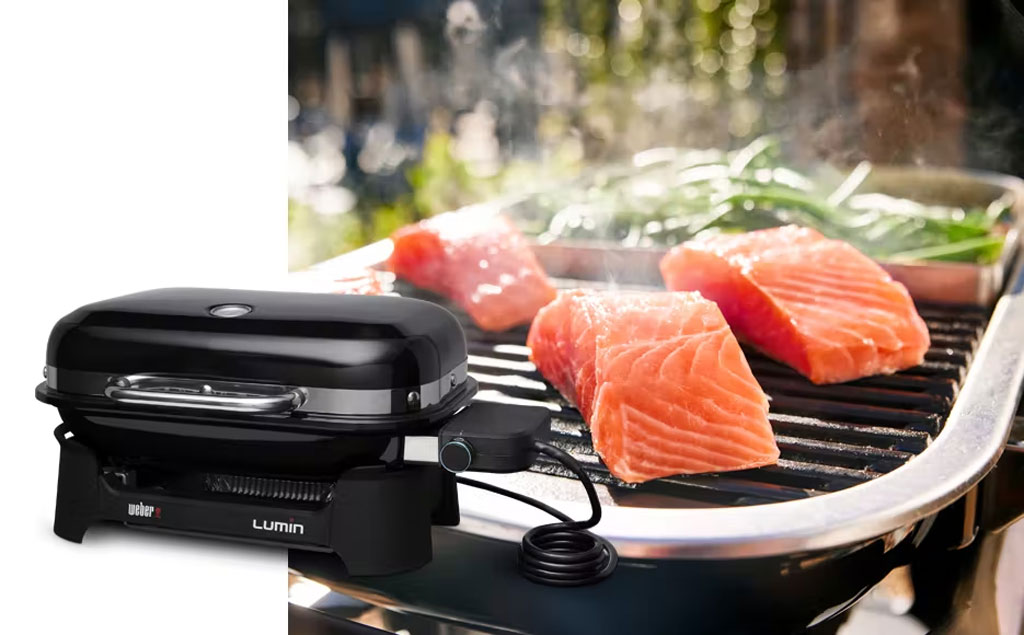 Last, but not least, is a new entry in Weber's electric grill line-up.
Weber Lumin electric grills target people with limited outdoor space, people living in places where charcoal and gas grills are not permitted, or people who prefer an electric grill for environmental reasons.
Lumin grills comes in two sizes:
The Weber Lumin Compact Electric Grill has a 180 sq. in. cooking surface, weighs 26 pounds, and measures 11″ H x 23″ W 16.5″ D.
The larger Weber Lumin Electric Grill has a 242 sq. in. cooking surface, weighs 36.5 pounds, and measures 12″ H x 26″ W 19″ D.
Both models are said to generate 600°F+ cooking temps and run on standard household 110-120V (60 Hz) power. Weber says the units draw up to 13 amps; they recommend plugging them into a standard 15 amp or higher GFCI-protected outlet.
Each grill has a low-profile lid with a chrome handle and banding reminiscent of Genesis gas grill lids. The lid includes an integrated thermometer that measures from 150-650°F. Temperature is controlled via a rotary knob on a module that plugs into the right side of the grill, similar to an electric skillet.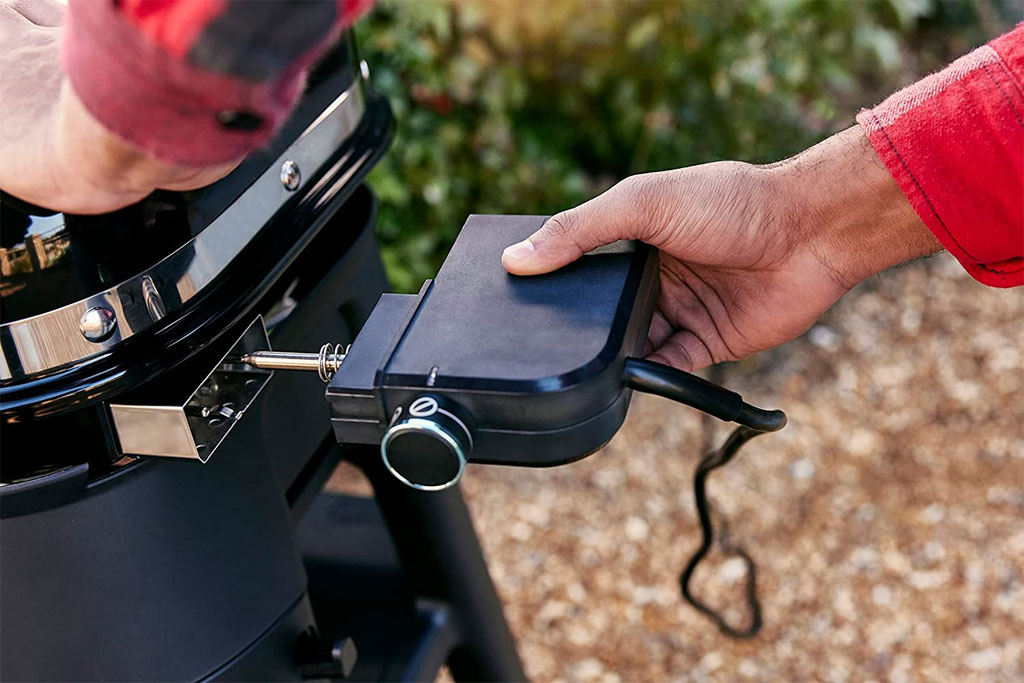 Lumin comes with a two-piece porcelain-enamel cast iron cooking grate.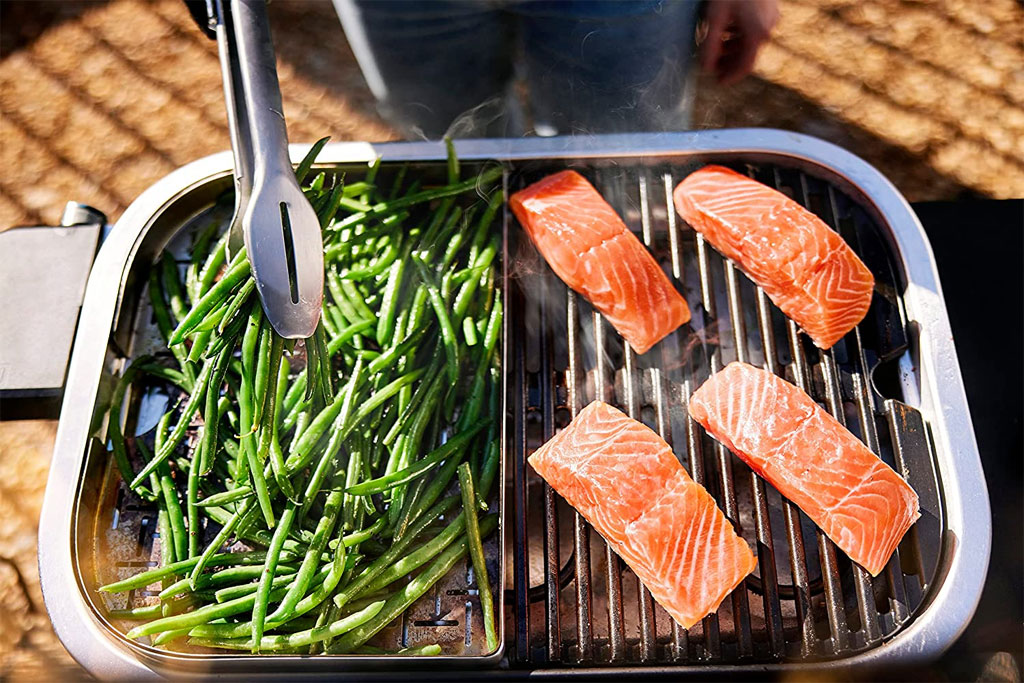 Either half can be replaced with the included combination vegetable grilling/food steaming/food warming tray. Weber says the cooking grates are "dishwasher-friendly", but I would never wash grates in a dishwasher! There will also be additional grate accessories including a griddle and a 4-piece Versatility Expansion Kit that allows for buffet-style food warming, greater steaming capability, and smoking food across the entire cooking surface.
For easy cleanup, there's a handy slide-out grease tray that's accessible from the front of the grill.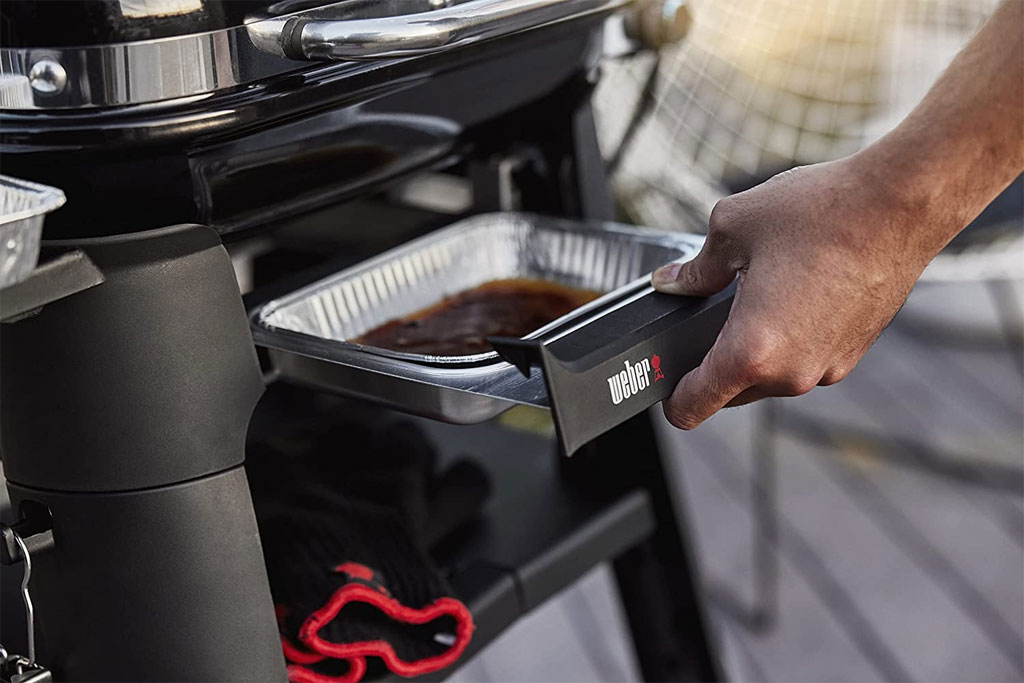 Lumin will sit nicely on any flat, fire-resistant surface on your patio. In the press material, Weber shows the grill on a metal table.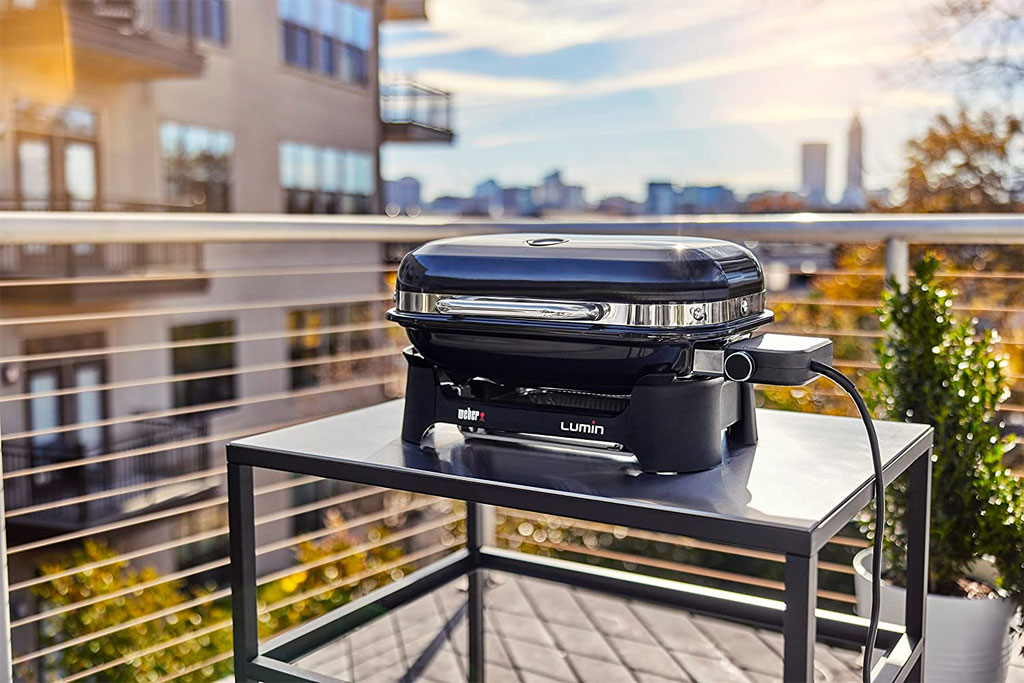 But if you don't have such a surface, Weber will be happy to sell you a Lumin grill stand. The stand includes a small removable side table (not shown here), two tool hooks, a surface below where you could place grilling gloves or other tools, and the whole stand folds relatively flat for storage. A grill cover that's large enough to cover the grill and stand is also available.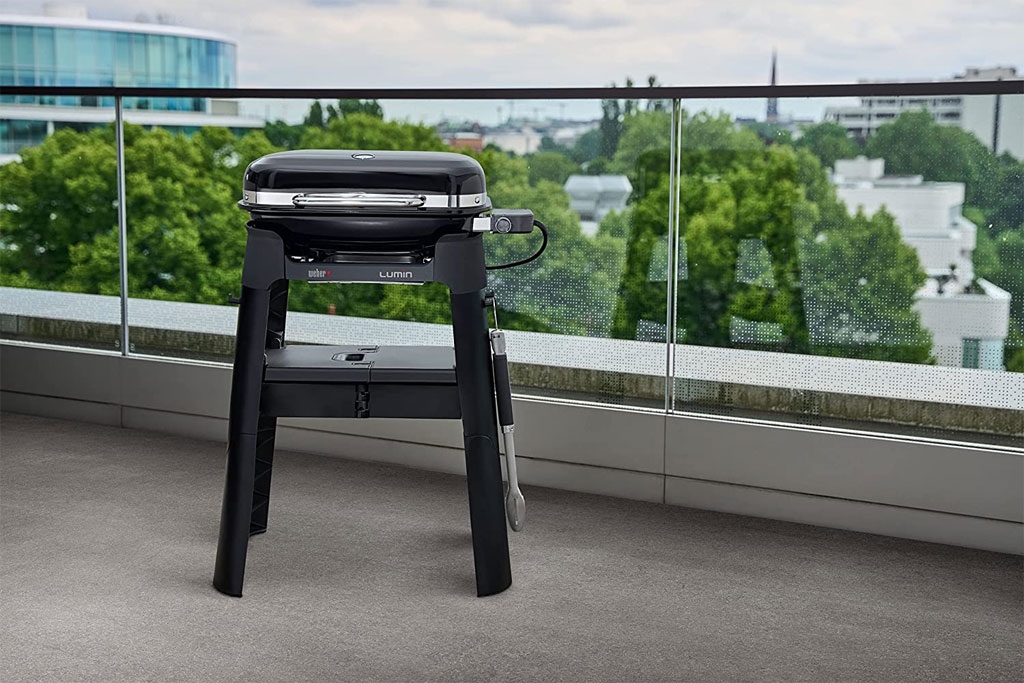 Weber is going all-out when it comes to colors on the new Lumin, offering grills in Ice Blue, Deep Ocean Blue, Golden Yellow, Seafoam Green, Black, and Crimson.
Lumin grills are available now at select retailers and coming soon to Amazon.com. Check these links for latest pricing:
Lumin Compact Electric Grill 180 sq. in. is not available at Amazon at this time.
These grills also come bundled with a grill stand at Amazon.com:
Lumin accessories include: