I like a clean machine. I get that from my dad. He used to wash the car in the driveway every Saturday morning. He was constantly running the vacuum around the house and going through bottles of Windex, cleaning windows inside and out. Drove my mom nuts. He's 73 years old now and although he's slowing down a little, he's still basically the same way today. So I come by my clean grill obsession honestly. Or perhaps genetically.
I keep four products on hand for cleaning stainless steel.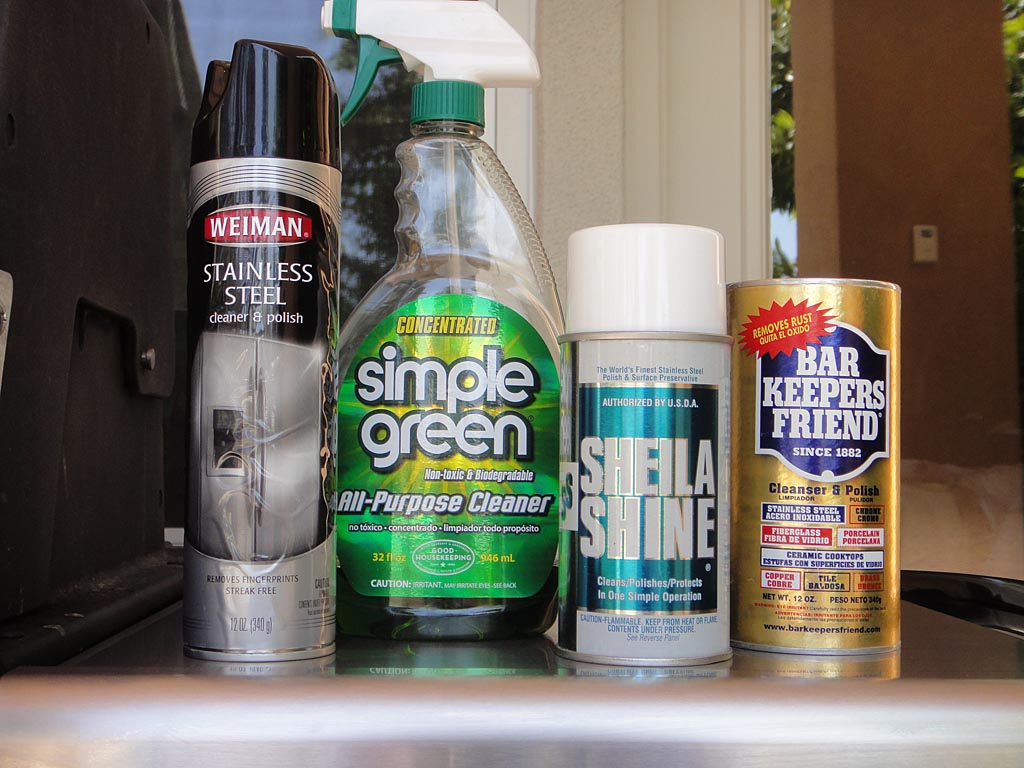 If I'm doing a light cleaning, I go straight to Sheila Shine. It cleans and polishes in a single step.
If I'm doing a deep cleaning, like in the photo below with lots of grease and grime, I start with Simple Green. Spray liberally, let soak for a few seconds, and wipe. Repeat once or twice until the surface is clean. Then I use Weiman to get rid of streaks and leave a matte finish.

I rarely use Bar Keepers Friend, because of the abrasive and acidic nature of the product. But if you need to remove a stain or rust that the other cleaners can't handle, BKF is the way to go. Test first in an inconspicuous spot to see how it works. Use a small amount of powder on a wet sponge. Use plenty of water to wet the product. Scrub very gently with the direction of the "grain" in the stainless steel. Rinse thoroughly after use. If you've got sensitive skin, wear rubber gloves when working with BKF.
By the way, BKF is great at removing those rainbow stains in the bottom of your stainless steel pots and pans!
You'll find Simple Green, Weiman and Bar Keepers Friend at Walmart and Target. You can get Sheila Shine at many Ace Hardware stores or from Amazon.com.
Do you have a favorite cleaning product or routine? Are you a clean grill neat freak like me? Let us know with a comment!