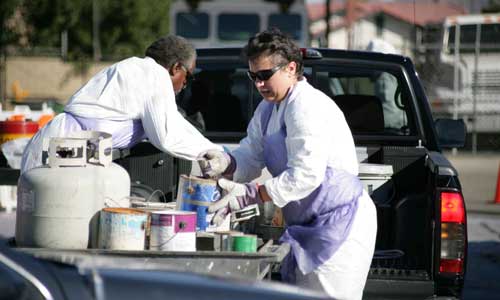 As a conclusion to my posts Turn Off The Gas Supply and Expired Propane Tanks, I wanted to say a few words about how to properly recycle a propane tank.
You cannot just toss that tank in the trash. It's bad on two counts. One is that it's considered hazardous material. Another is that it contains a lot of good steel that can be recycled into your next propane tank or gas grill!
Here's the right way to lose that old tank:
Contact your local garbage hauler. They can tell you where to drop-off your old tank.
Contact your city or county hazardous materials department. Where I live, the county sponsors free drop-off locations where they accept old propane tanks along with other hazardous household materials.
Go to the place where you have your tank refilled and ask if they will accept old tanks for recycling.
Contact the tank manufacturer. They may be able to tell you about a recycling location near you.
Contact a scrap metal recycler to see if they will accept old tanks for recycling.
You can drop-off tanks for recycling at any Blue Rhino exchange location. Just write RECYCLE on the tank. They will collect and refurbish the tank, is possible, otherwise they will recycle it.