Background
In 2001, grilling was more popular than ever. According to the Barbecue Industry Association, over 15 million grills were sold in America the previous year, up 32% from 1997. About 75% of households owned a grill, and over 50% used them all year long. The most popular book at the time was How to Grill by Steven Raichlen.
The Dot Com Bubble had burst in 1999 and the Housing Bubble was just starting to build in 2001. Homeowners were upgrading their kitchens with high-end commercial appliances. Appliance manufacturers like Viking and Jenn-Air started bringing expensive luxury gas grills to market around this time.
How did Weber respond? By creating an entirely new brand called Vieluxe. Vieluxe luxury grills were available in 44″ and 56″ models with suggested retail prices of $6,000 and $8,000 respectively. And quite noticeably, they did not carry the Weber name or logo.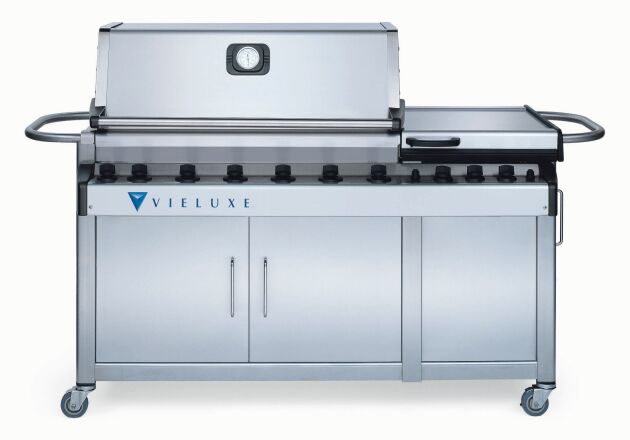 Vieluxe: The Luxury of Life
The brand name Vieluxe was a combination of the French words "Vie" meaning life and "Luxe" meaning luxury. The tagline "The Luxury of Life" and the theme of luxury were prominent in the advertising of these grills. Brochures featured images of beautiful people in beautiful places enjoying the good life with Vieluxe.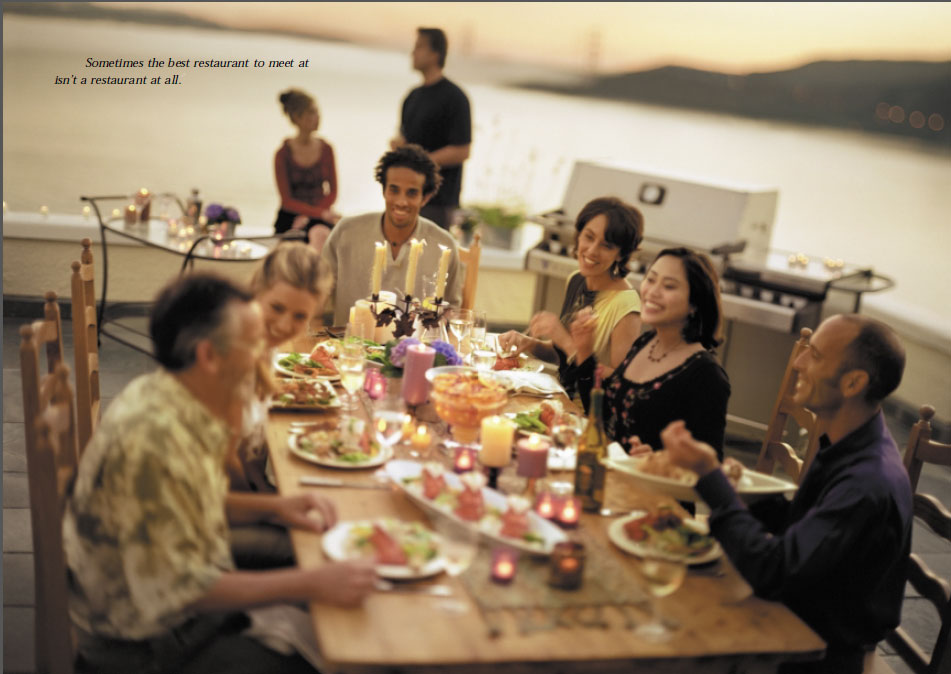 In a 2003 Weber press release, Vieluxe Brand Manager Shaun Chinsky said, "Vieluxe grills are painstakingly handmade using only the finest materials. From the welder's arc to the polisher's cloth, no detail is overlooked." In a 2004 interview with GenieKnows.com, Chinsky was quoted as saying that Vieluxe "is like our Lexus".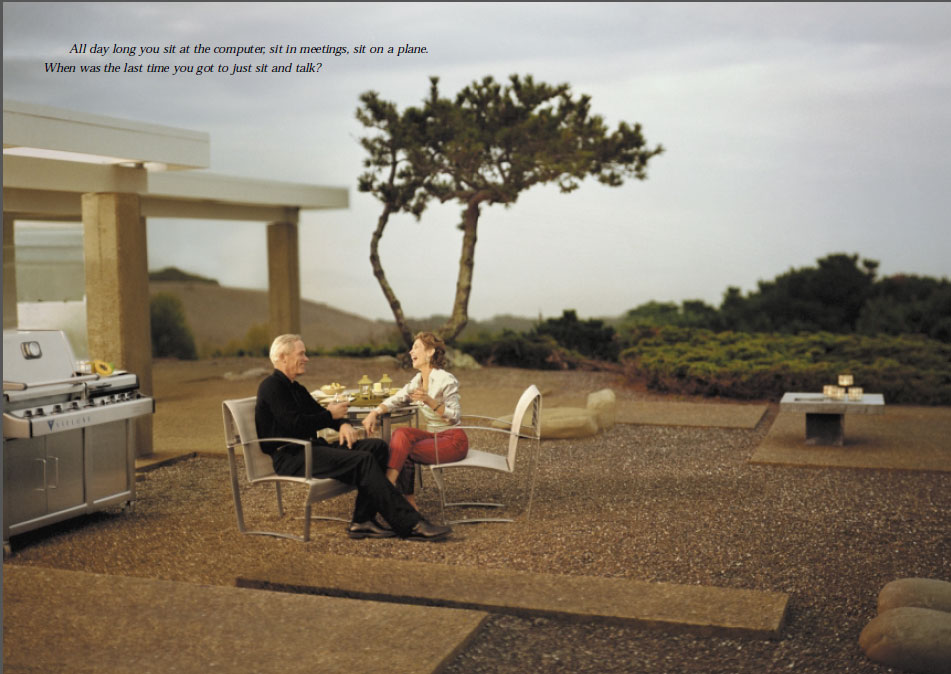 Vieluxe Features & Specs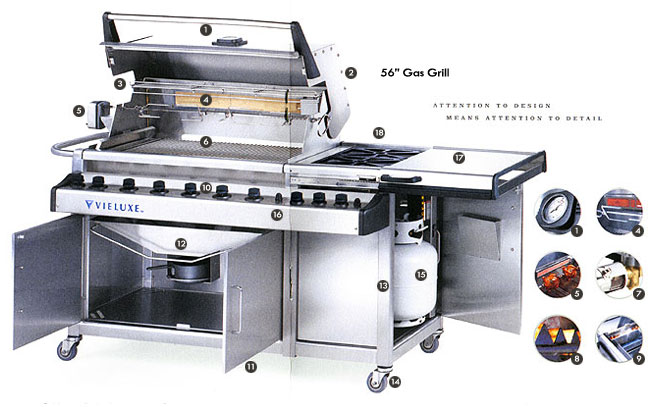 Vieluxe grills were built to the highest standards of quality, featuring a welded chassis of 16-gauge stainless steel 304 tubing.  They included a commercial-grade thermometer in the hood, heavy-duty 3/8″ welded stainless steel rod cooking grates, stainless steel Flavorizer bars, a rotisserie with infrared burner, a fold-away warming rack, and a funnel-shaped drip pan that directed drippings into a Teflon-coated catch pan for easy cleaning.
At a time when other Weber gas grills had the propane tank hanging on the outside of the grill, Vieluxe hid the tank inside a cabinet with "swing-out easy-change tank support". Vieluxe was the first grill made by Weber to use continuous-spark electronic igniters powered by AA batteries.
Two unique patented features included a stainless steel work surface that "glides open on a steel rail and ball bearing assembly" to reveal two 14,000 BTU side burners and the Integrated Smoker System "with ported flues that disperse wood smoke evenly across the cooking surface, powered by a dedicated 8,000 BTU/hour burner."
Vieluxe 360201 44″ Specifications
Dimensions: 65″ W x 33″ D x 50″ H
Weight: 370 lbs.
Cooking surface: 432 sq. in.
Warming rack: 117 sq. in., expandable to 247 sq. in.
4 primary burners 50,000 total BTU/hr (12,500 BTU each)
Smoker burner: 8,000 BTU/hr
Infrared rotisserie burner: 10,000 BTU/hr
2 side burners: 14,000 BTU/hr each burner
Rotisserie: 2 spit forks
Vieluxe 370201 56″ Specifications
Dimensions: 77″ W x 33″ D x 50″ H
Weight: 440 lbs.
Cooking surface: 648 sq. in.
Warming rack: 171 sq. in., expandable to 361 sq. in.
6 primary burners 75,000 total BTU/hr (12,500 BTU each)
Smoker burner: 8,000 BTU/hr
Infrared rotisserie burner: 15,000 BTU/hr
2 side burners: 14,000 BTU/hr each burner
Rotisserie: 4 spit forks
Ownership Is More Like Membership
Grill owners were entitled to the Vieluxe Concierge personal service program consisting of:
Complimentary Spring grill tune-up for the first 3 years.
Dedicated 24-hour customer care line to answer grilling questions.
Limited lifetime warranty.
As the brochure said, "With Vieluxe, ownership is more like membership."
Luxury Hits The Chopping Block
Vieluxe grills were sold from 2001-2005 and then discontinued, presumably due to poor sales.
In 2006, a Weber insider told The Virtual Weber Bulletin Board that the key factor to the demise of Vieluxe was the high cost of hand fabrication. In 2005, Weber Summit Platinum stainless steel grills could be manufactured using the same tooling as the Summit Gold but at a fraction of the cost of Vieluxe. Not that these were comparable grills in any way, but time shows us that people voted with their wallets. Weber Summit grills are still with us today and Vieluxe is but a distant memory.
Vieluxe Brochure
It's too late to buy a new Vieluxe grill and it's unlikely you'll ever find one used. But you can still enjoy its luxurious brochure. Here's to champagne wishes and caviar dreams!
Download Vieluxe Brochure (PDF)
Viewing the brochure requires Adobe Reader.
—
Special thanks to Mike Lang of AnotherPintPlease.com for tweeting recently about cooking on an old Vieluxe. His tweet reminded me of the existence of this old grill and inspired this blog post.