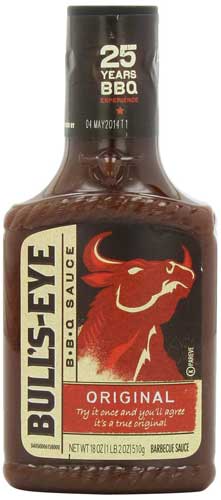 In a recent episode of Cook's Country on PBS (Season 11, Episode 4), Bull's-Eye Original BBQ Sauce was named the winner of their barbecue sauce taste test.
(Interestingly, this review first appeared in the July/August 2017 edition of Cook's Country magazine before being recycled on the television show over a year later in Fall 2018.)
Twenty-one staff members sampled seven top-selling U.S. barbecue sauces at room temperature plain and as a dipping sauce for chicken fingers, and mixed into warm pulled pork. Tasters evaluated sweetness, tomato flavor (all sauces were tomato-based), smoke flavor, spiciness, and tanginess. They also considered the consistency of each sample, ranging from thin and runny to thick and gelatinous.
In naming Bull's-Eye Original BBQ Sauce the winner, tasters described it as "all purpose", "straight-forward", and "immediately pleasing to the palate". They liked the balance of sweetness, tomato flavor, smoke, and tang, and noted the consistency of the sauce, saying it was "not as gloppy" as other sauces.
Also recommended were Heinz Classic Sweet & Thick BBQ Sauce ("a tad too sweet") and Sweet Baby Ray's Barbecue Sauce ("supersweet" and "ketchupy").
Recommended With Reservations were KC Masterpiece Original Barbecue Sauce ("needed a little more of a kick"), Kraft Original Barbecue Sauce & Dip ("pumpkin-spiced barbecue"), and Jack Daniel's Original No. 7 Recipe Barbecue Sauce ("liquid smoke", "artificial").
Not Recommended was Stubb's Original Legendary Bar-B-Q Sauce ("spicy, watery ketchup"). Ouch!