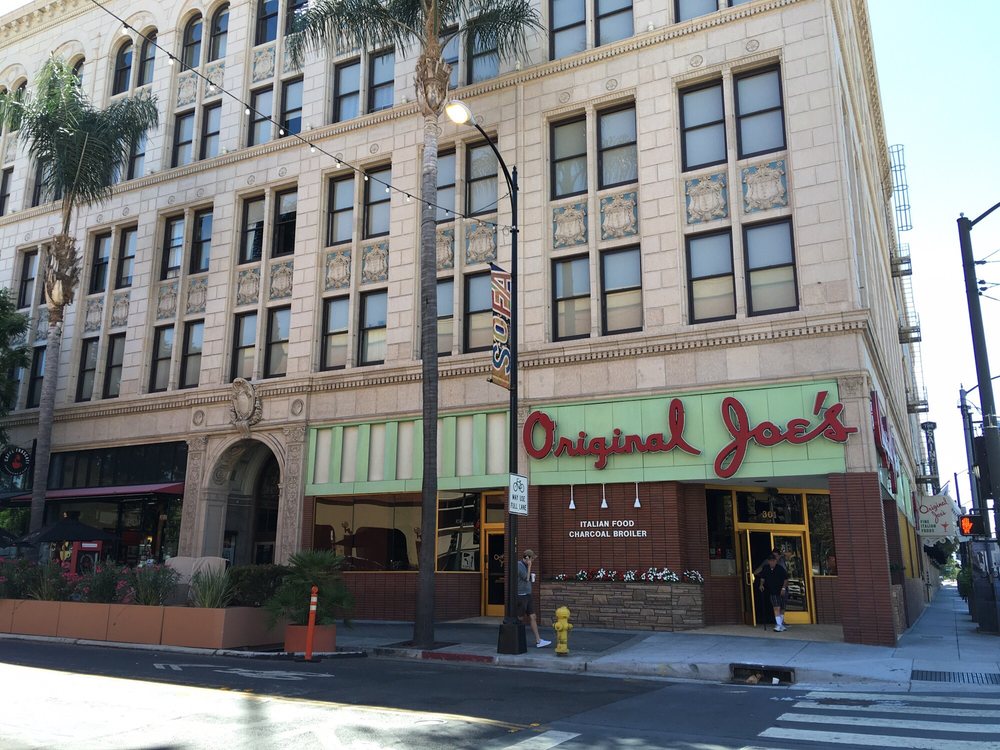 Original Joe's San Jose. Photo Credit: Victor H. via Yelp. Used with permission.
Introducing Original Joe's
Original Joe's is a beloved Italian restaurant, an institution located in the heart of downtown San Jose. It's a holdover from a simpler time, a Bay Area tradition that dates back to 1937 when the first Original Joe's opened in San Francisco. More locations and perhaps a few copycats opened over the years. They all followed the same successful model: Waiters wore tuxedos, kitchen staff wore "chef's whites" and "toque blanche" (white hat). They served old-fashioned Italian-American dishes prepared in an open kitchen, the menu consisting of steaks and seafood cooked on a charcoal grill, Italian pasta specialties,  soups, salads, side dishes, and desserts. And they had a piano bar where, back in the day, men wore suits and ladies wore dresses and you'd stop by for a cocktail and listen to someone tickle the ivories or play the organ. Real classy!
Original Joe's in San Jose opened in 1956. It was a partnership of four men, at least two of which had a family connection to Original Joe's in San Francisco. Surviving all these years through good times and bad,  even through the exodus of downtown retailers to spacious air-conditioned malls in the 1960s and 1970s, Original Joe's continues to serve favorite foods with a "traditional San Francisco flair" to locals as well as to visitors from all over the world.
The Famous Hamburger Sandwich
One of the signature dishes at Original Joe's is the "Hamburger Sandwich". Today they call it the "Original Joe's Famous Hamburger", but to those of us in the know, it's still the hamburger sandwich.
The hamburger sandwich is simplicity at its best. The menu describes it as, "3/4 pound ground chuck tumbled in chopped yellow onion, Swiss cheese, grilled or broiled and served on our signature French bread." You can add bacon or fried egg, if you like.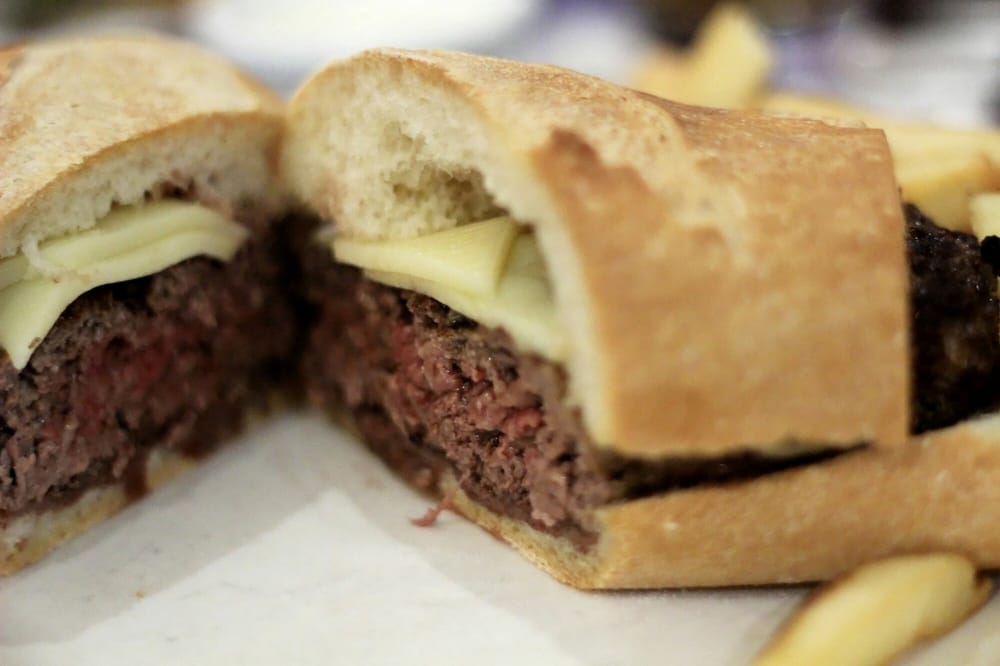 Original Joe's hamburger sandwich. Photo Credit: John D. @forksandtrails via Yelp. Used with permission.
The chopped yellow onion is pressed into the raw ground chuck and formed into an oblong-shaped patty. I don't care for the strong onion flavor, so I order mine without onions. You've got to have it grilled on the mesquite-fired charbroiler. It takes a long time to cook a burger this thick, but your patience is rewarded when it finally arrives at your seat at the counter. (You are sitting at the counter, aren't you? Where you can watch the open kitchen in action?)
The hamburger sandwich comes with Swiss cheese; I add bacon. It's served with steak fries and a little cup of ketchup on the side. I always wish they'd bring more fries and ketchup to begin with, but you can ask for more.
My Attempt To Make A Hamburger Sandwich
I decided to make a version of the Original Joe's hamburger sandwich using my Weber gas grill. No mesquite charbroiler, to be sure, but quicker and easier.
I formed 1.5 pounds of good quality 80/20 ground chuck into two thick, 3/4 pound oblong-shaped patties, applied kosher salt and pepper, and let sit in the refrigerator for about 30 minutes, giving the salt a chance to penetrate the meat.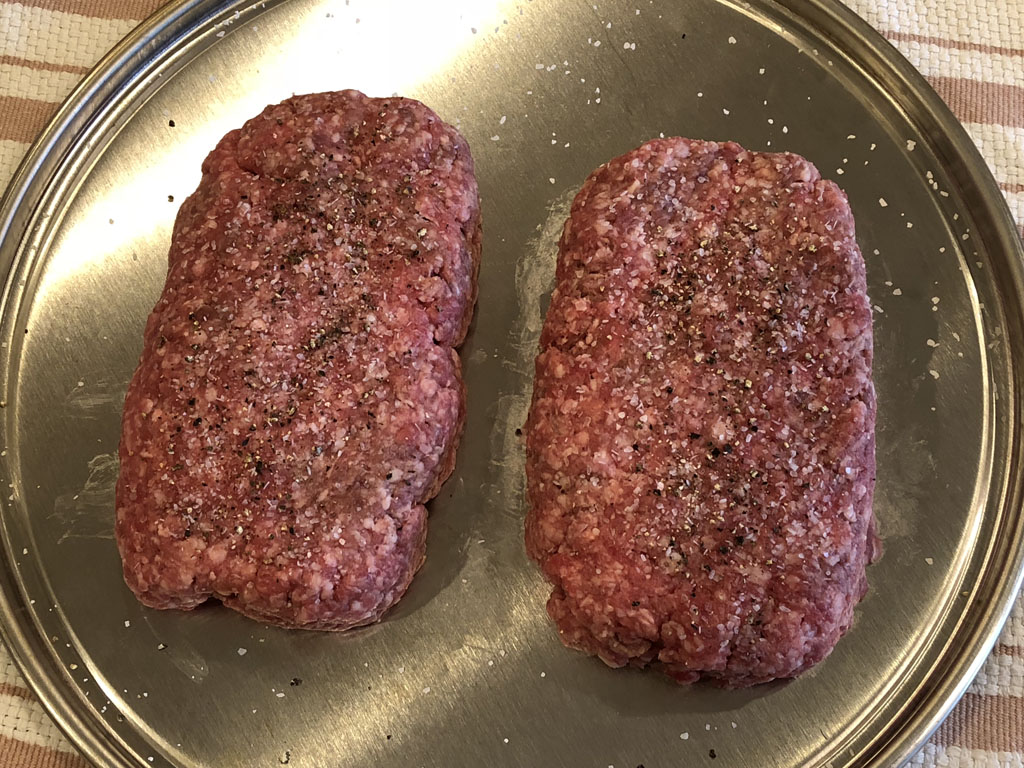 I pre-heated my Weber Summit 450 gas grill with all burners on MEDIUM heat. After about 10 minutes of pre-heating, I cleaned the grates with a grill brush and was ready to cook.
I placed the patties on the cooking grate at a 45° angle and flipped them during cooking to create the usual diamond pattern grill marks.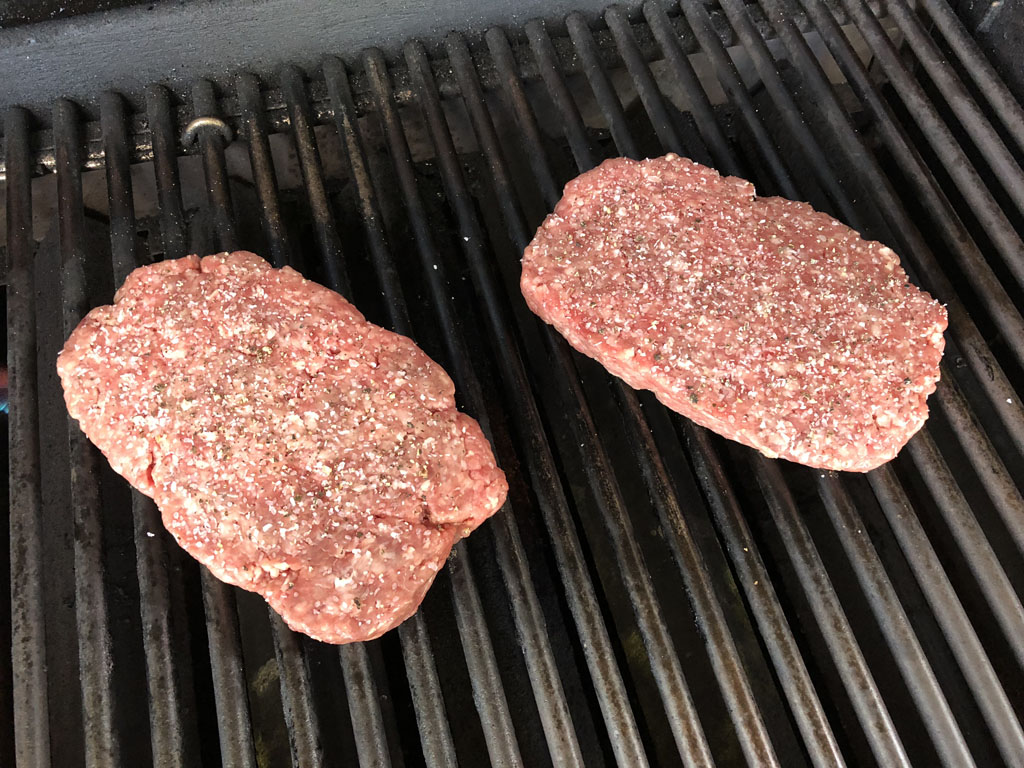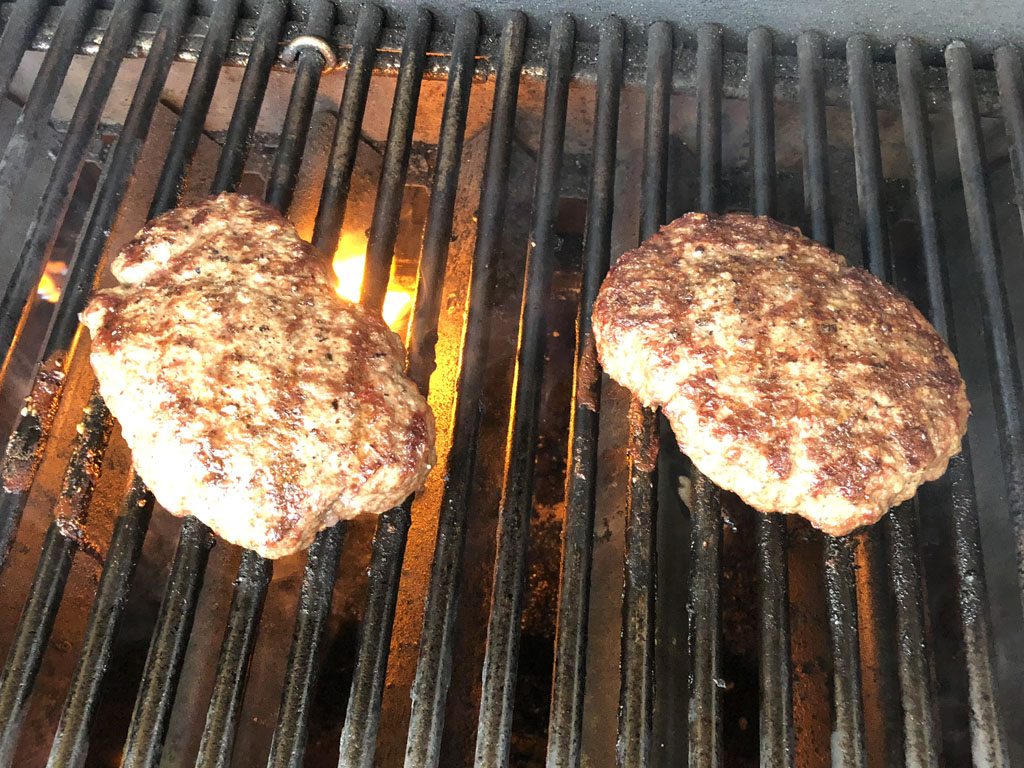 I flipped the patties every 2-3 minutes until they registered 135°F internal temperature using a Thermapen Mk4 instant-read thermometer.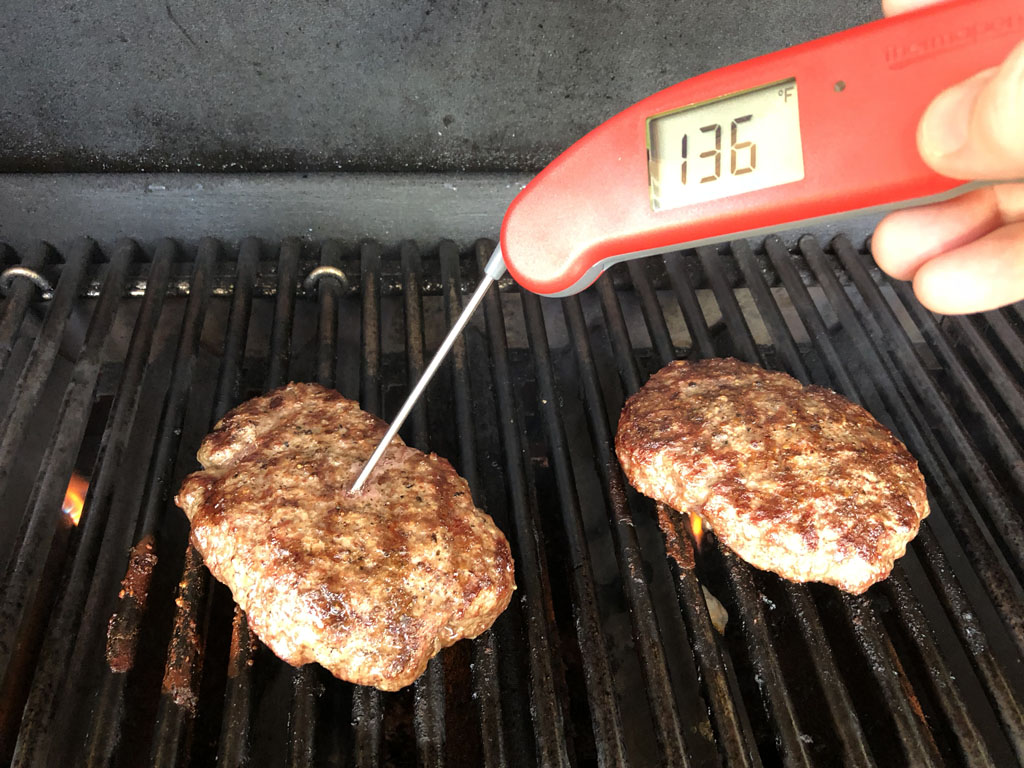 Once the burgers hit medium doneness, I moved them off the grill to a plate, placed two thin slices of Swiss cheese on each patty, covered with foil and let rest for 3-4 minutes to allow the juices to redistribute within the meat and to let the cheese soften.
To make the hamburger sandwich bun, I cut a piece of crusty French bread about the same length as the cooked burger and sliced it open. I used my fingers to pull out some of the bread in the top of the bun, resulting in about the same amount of bread in the top and bottom pieces. This improved the ratio of meat to bun and made the hamburger sandwich more enjoyable to eat.
You might think that toasting the French bread would make for a better hamburger sandwich. It probably would, but that's not how they do it at Original Joe's, so mine went untoasted. I placed the burger on the bun, added two slices of thick cut bacon, and I was ready to eat!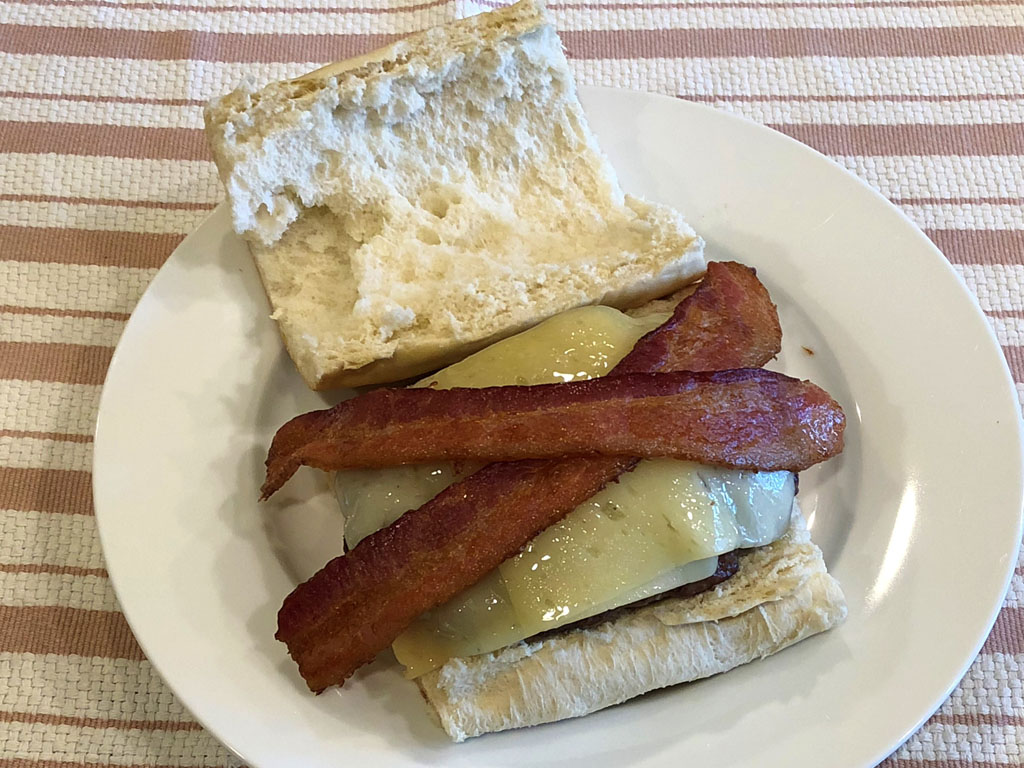 My Hamburger Sandwich: Close, But Not Joe's
Compare mine to the Original Joe's version…how do you think I did?
Mine: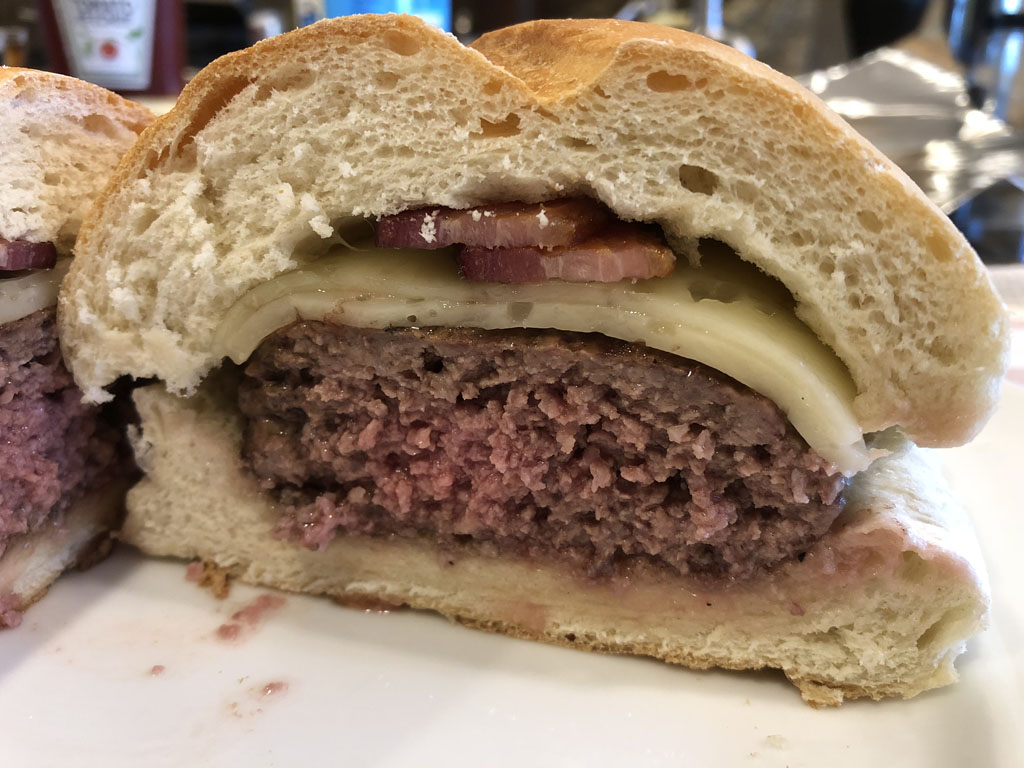 Theirs: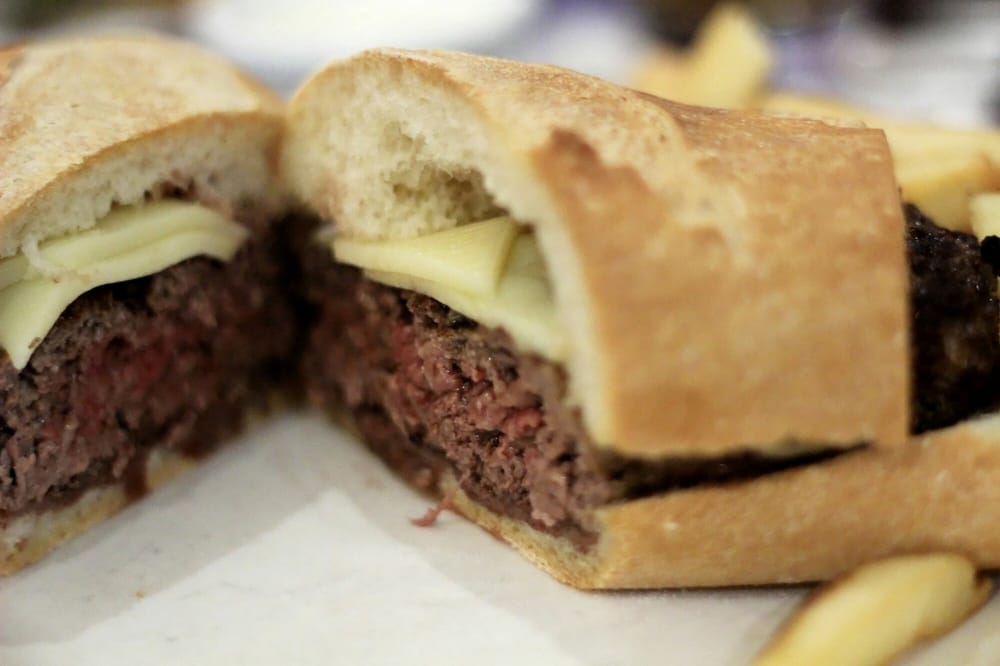 Was my hamburger sandwich as good as Original Joe's? It was pretty darned tasty, especially when paired with a generous batch of hot, crispy steak fries and a big bottle of ketchup! But it was missing something…the ambiance of Joe's, the seat at the counter, watching the chef working the intensely hot grill, cranking out order after order. My version was good, but it was not a famous Original Joe's hamburger sandwich.
No matter how you like your burgers, I hope you'll fire-up your Weber gas grill and make some big, beefy 3/4 pound hamburger sandwiches. They're a special treat!