Today I had a chance to get up close and personal with some of the new 2017 Weber Genesis II gas grills at a local Ace Hardware store in San Jose, CA. All were base models, not the high-end LX model. One was a 2-burner model, two were 3-burner, and one was 4-burner.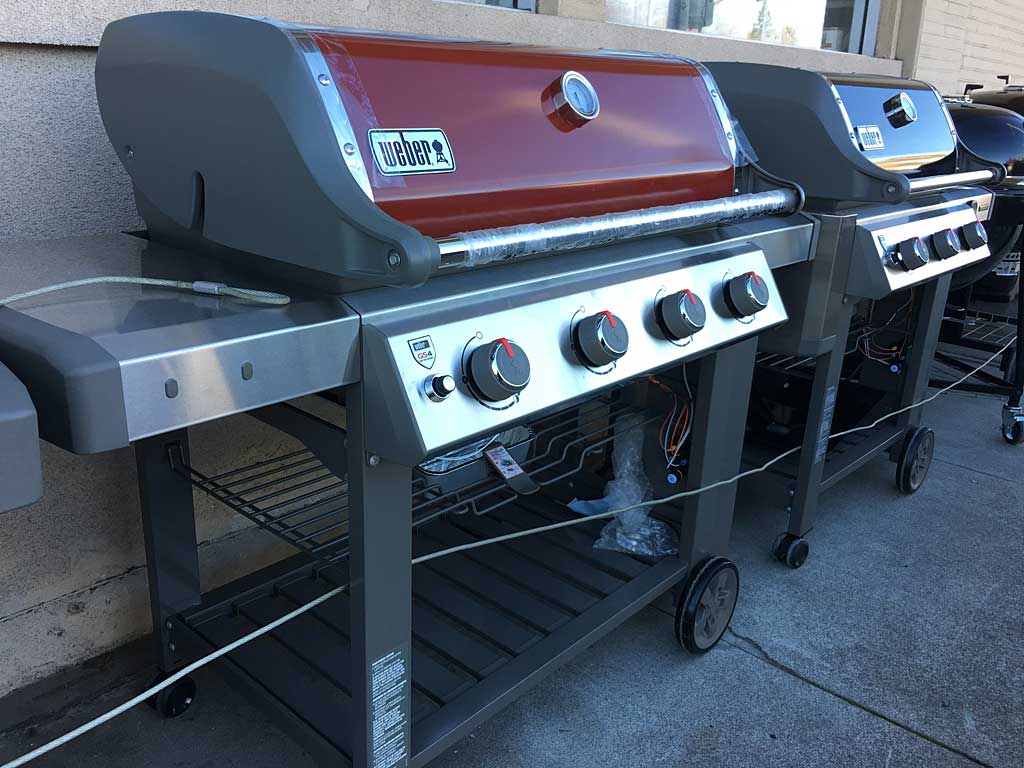 Overall Impressions of Genesis II
To my eye, the lids appear just a short and squat in-person as they do in photos. A member of The Virtual Weber Bulletin Board reports that the grate to lid height is 1″ shorter than 2016 models. Perhaps it's a optical illusion, but it sure seems shorter than that.
Although I didn't get to fire-up any of these grills, the design of the new GS4 High Performance Grilling System looks promising. The GS4 system consists of four components:
The E2i Electronic Ignition System that ignites each burner independently.
The new tapered burners that provide consistent gas flow from front to back for even heat distribution.
The good old Flavorizer bars plus new heat deflectors that help distribute heat evenly throughout the cookbox.
The Grease Management System consisting of a large center-mounted catch pan with disposable drip tray.
One of the first impressions you get from a Weber gas grill is when you lift the lid and feel its substantial weight. That does not change with these grills. The lids feel heavy and sturdy, the handles strong and secure.
However, when you start looking more closely at other components, they don't seem as substantial. The work surfaces, the control panel, some of the smaller pieces on the back side of the grill, and especially the cover that visually screens the propane tank seem quite flimsy.
The Tuck-Away warming rack and the folding left-side work surface (on 2- and 3-burner models) seemed fussy. Folding these up and down was not smooth and easy.
Genesis II Assembly
Long gone are the days of "StopWatch Engineering" from the early 2000s when Weber claimed that two people could assemble a Genesis gas grill in 10 minutes with 8 fasteners and a single tool–and they even threw in the tool!
A review of the Genesis II assembly guide indicates that assembly is a two-person task featuring 37 assembly steps and up to 161 parts, depending on the model. Required tools are a Phillips head screwdriver and an included wrench.
Assembly steps are illustrated in picture format with small amounts of text for the most crucial steps. Some steps require 2-3 actions per step, and there are many smiley and frowny face icons indicating the right and wrong way to perform each step.
You start by building-up the frame and then dropping the firebox into the frame, taking care to properly route the electrical wiring and gas line around the grill frame. There are lots of little screws and washers and clips and do-dads…you'll want to take your time and exercise patience when assembling one of these grills.
If you're an app person, you might want to avail yourself of a downloadable app called Bilt that offers 3-D step-by-step assembly instructions. It's available for both iOS and Android smartphones.
Made in China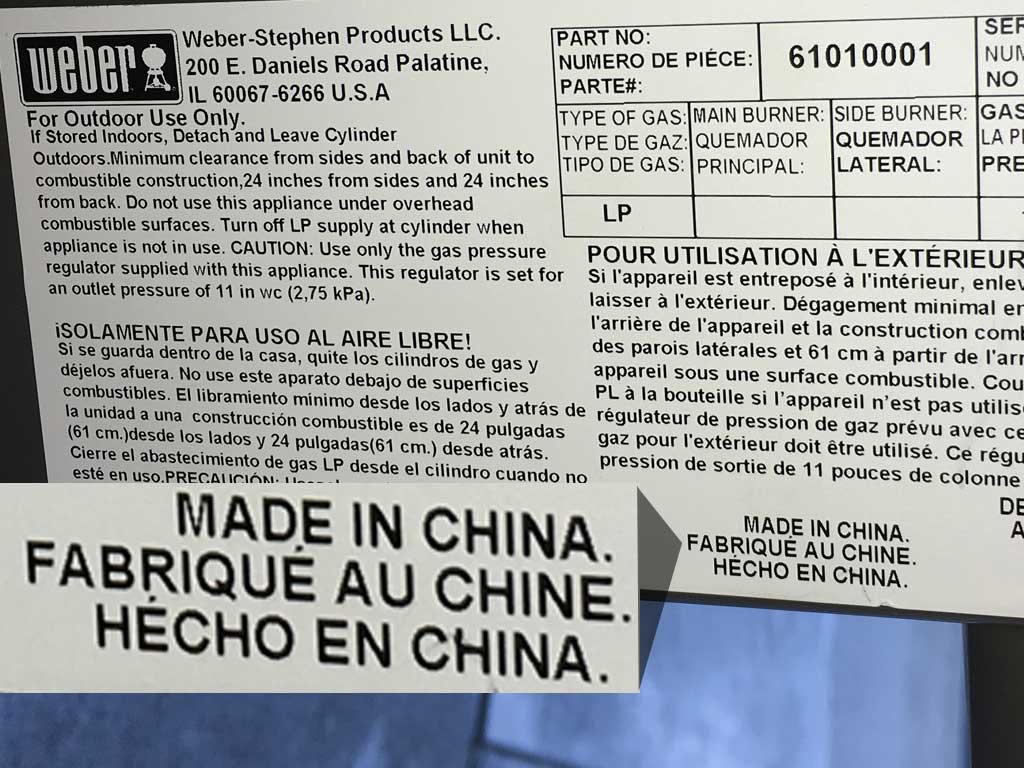 Sad, but true, 2016 is the last model year in which all Weber Genesis grills can say, "Made in the United States of America with globally sourced parts and components". The 2017 model year marks the beginning of Genesis II gas grills being made in China, just like Spirit gas grills have been over the past few years. This applies to all of the basic Genesis II models.
It's my understanding that the Genesis II LX gas grills are being assembled in the United States…for now.
Pricing
Here are the MSRP prices for the basic Genesis II grill line-up:
E-210: $499
E-310: $699
E-410: $899
E-610: $1299
Photos of Genesis II
Here are some  photos I took of these grills and comments on each.