New 2017 Weber Genesis Gas Grill Photos
Genesis II With Open & Closed Cabinets Featured at Ace Hardware Convention in Chicago
Photos of new 2017 Weber Genesis gas grills started showing up online in the past few weeks. One of my sources saw these grills today at the Ace Hardware convention in Chicago and says they are real beauties!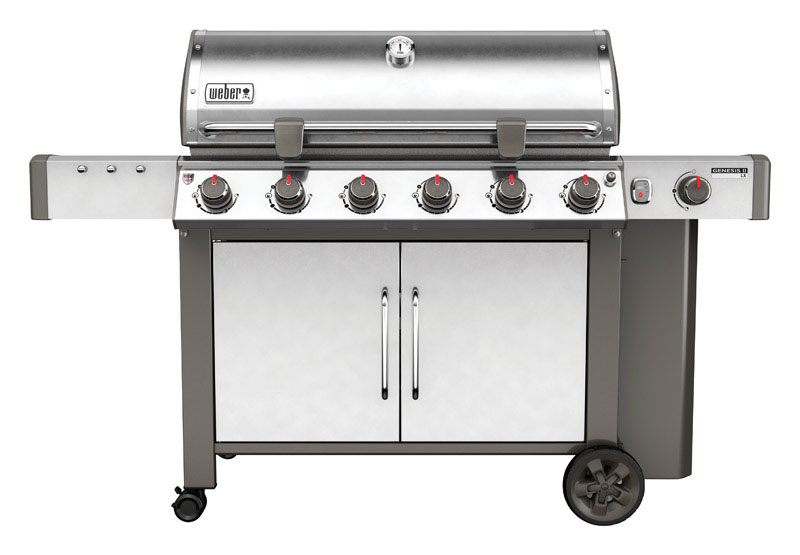 Weber is reviving the Genesis II nameplate from the late-1980s for these new grills in 2017. Back in those early years, the Genesis line consisted of 2- and 3-burner grills. Around 1998, Weber introduced the premium Summit line that offered 4- and 6-burner models. In 2007, Weber dropped the Genesis Silver A 2-burner grill from the lineup in favor of the less expensive Spirit E-210 2-burner grill, leaving Genesis as a line of 3-burner grills only.
For 2017, Weber greatly expands the Genesis lineup. The Genesis II features a series of 2-, 3-, 4-, and 6-burner grills in propane and LP that come in a variety of colors, including stainless steel, and in basic and upgraded LX versions.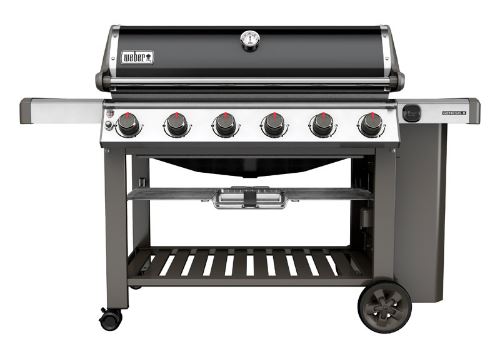 Weber brings back an open cabinet design on basic models–a design they discontinued in 2003/2004 in favor of enclosed storage cabinets with doors–with the usual porcelain coated cooking grates and Flavorizer bars. All grills appear to have an "iGrill Ready" work surface for use with the recently acquired iGrill remote thermometer.
An upgraded LX option is available that provides the enclosed cabinet along with other features including side burner, stainless steel rod cooking grates, stainless steel Flavorizer bars, electronic LP tank meter, handle lights and front-mounted tool hooks.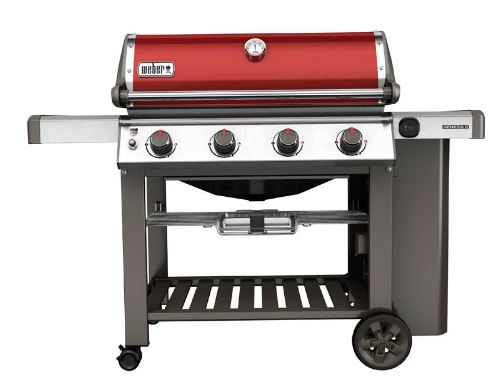 Lids appear shorter in these photos than on current grills. Not sure if that's real or just something having to do with the photography. It will be interesting to measure the dimensions to see how much headroom, if any, has been lost inside the grill.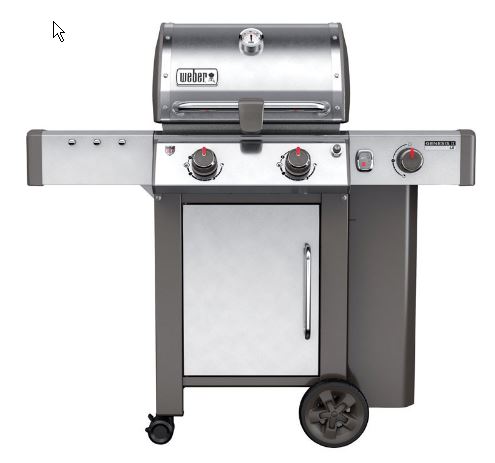 2017 marks the return of a 2-burner grill to the Genesis lineup. The last 2-burner Genesis was the Genesis Silver A in 2006 which gave way to the Spirit E-210 in 2007. It will be interesting to see how this new grill is received by consumers vs. the Spirit 2-burner.
New Trademarked Logo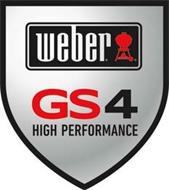 All these grills feature the "Weber GS4 High Performance" logo located on the upper left corner of the front control panel. Weber GS4 High Performance is a new trademark registered in March 2016 that apparently refers to newly designed high performance burners.
Pricing
MSRP for basic grills are said to be:
6 burner $1,299
4 burner $949
3 burner $849
2 burner $499
Top of the line 6-burner grill in LX configuration is said to have an MSRP of $1,999.
More Choice or More Confusion?
The unanswered question in all this is whether these new grills will compliment the existing Spirit and Summit lines or whether they will create confusion. With the 2-burner grill overlapping with the Spirit line and the 4- and 6-burner grills overlapping with the Summit line, it will be incumbent on Weber to clearly explain the value proposition of these new grills and to delineate the feature differences between the Spirit/Genesis/Summit lines, beyond just the obvious difference in MSRP.
It's not easy for manufacturers to communicate these differences…I remember from my days working at HP how difficult it was for the company to clearly and concisely to explain the difference in features between so many brands and models of laptop computer or inkjet printer. What's the difference between Photosmart and OfficeJet? Between Pavilion and Elitebook and Probook?
Also, there is such a thing as too many choices. Too many choices can paralyze consumers. Currently there are 4 models in the Genesis line, and the only overlap is with Spirit 3-burner grills. If you want a 2-, 4- or 6-burner grill, you've got to look outside the Genesis line.
Now, If I understand correctly, there will be 8 models in the Genesis line, and all of them will overlap with grills in the Spirit and Summit lines. I predict confusion for consumers…unless Weber discontinues Spirit and/or Summit, but the likelihood of that seems to be about zero.
I hope Weber isn't making a mistake here. Only time will tell.
—
Want more photos and details on these new grills as they become available? Follow this thread on The Virtual Weber Bulletin Board: