In May 2017, I watched a Facebook Live session in which Harry Soo of Slap Yo' Daddy BBQ grilled a steak using shallot oil as an added flavor element. I had no idea what shallot oil was, how it was made, or how it tasted on a steak, but I wanted to find out.
I searched the web, found several recipes for shallot oil, and picked one from New York Times Cooking that looked easy.
1 cup peanut oil
2 cups (about 7 oz.) thinly sliced shallots, Asian or European
Yield: 1 cup oil + 1 cup fried shallots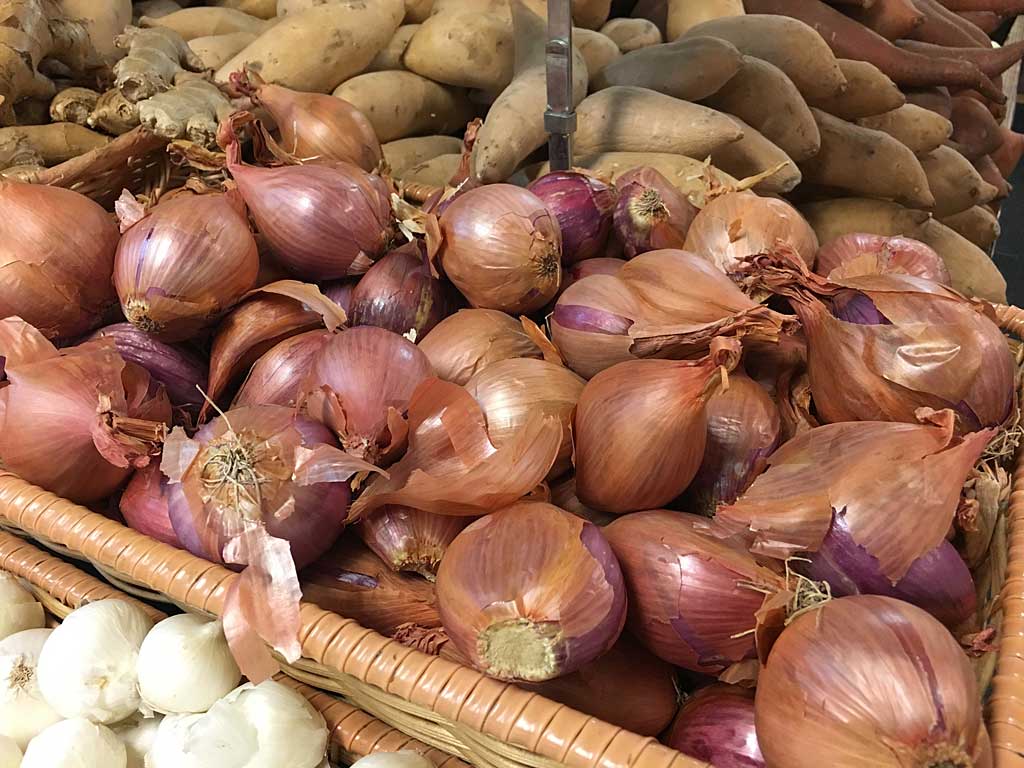 I went to the supermarket and bought 1/2 pound of shallots, which ended up being two shallots. No clue whether they were Asian or European, but I suspect the latter. Having never cooked with shallots before, I had no idea they would be as big as they were; I was expecting something smaller like a head of garlic.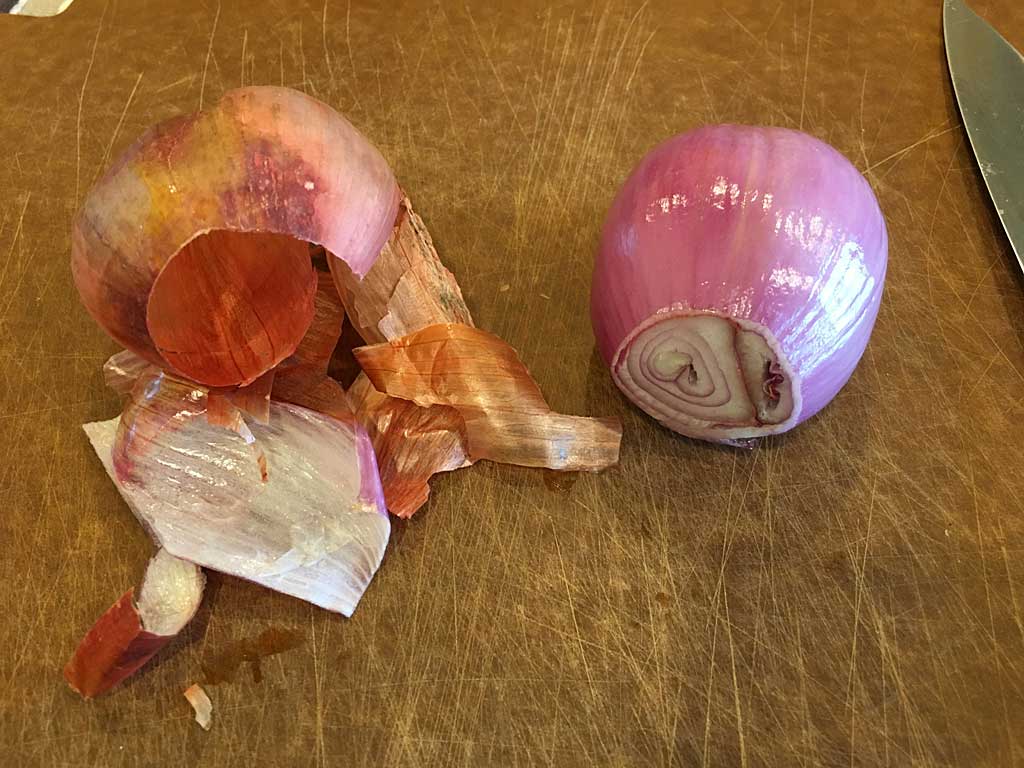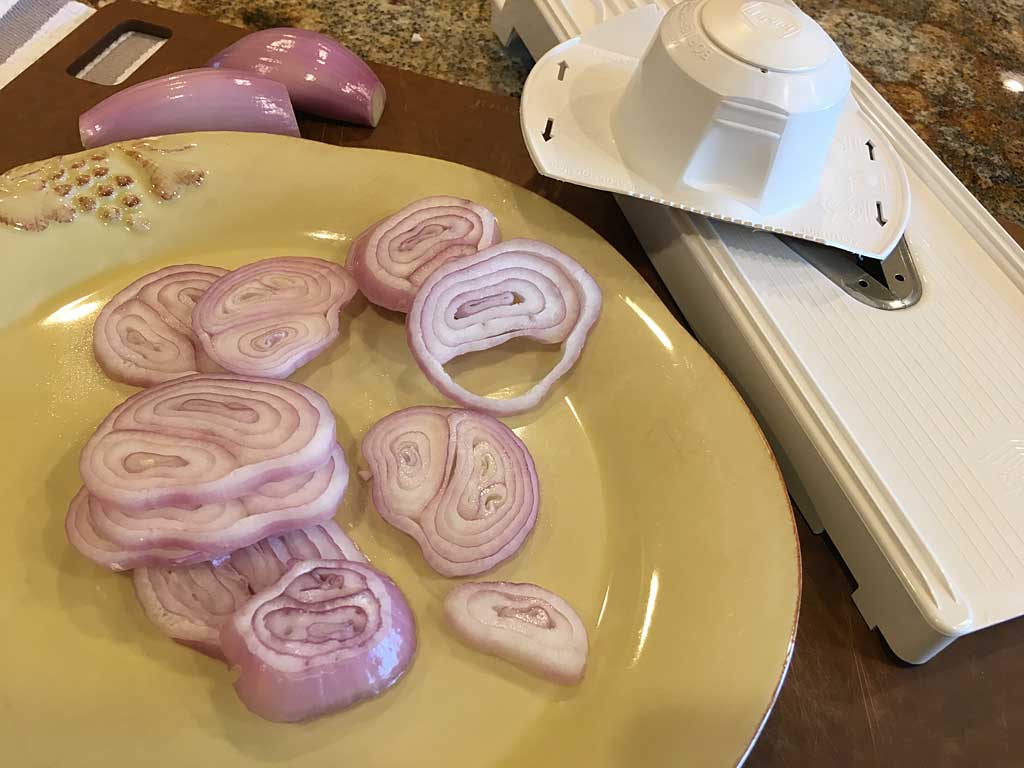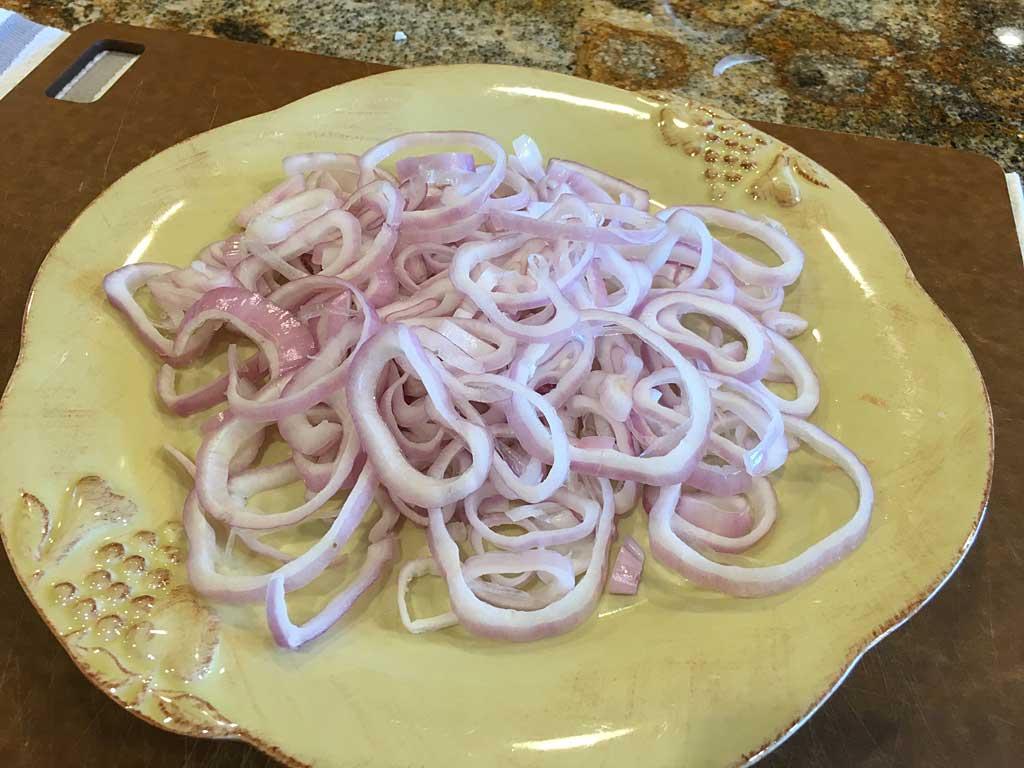 Got the shallots home, cut off each end, and found two or three segments inside—normal for shallots, as it turns out. I removed the papery outer layer, ran them through the thin setting on a mandoline, and separated them into rings.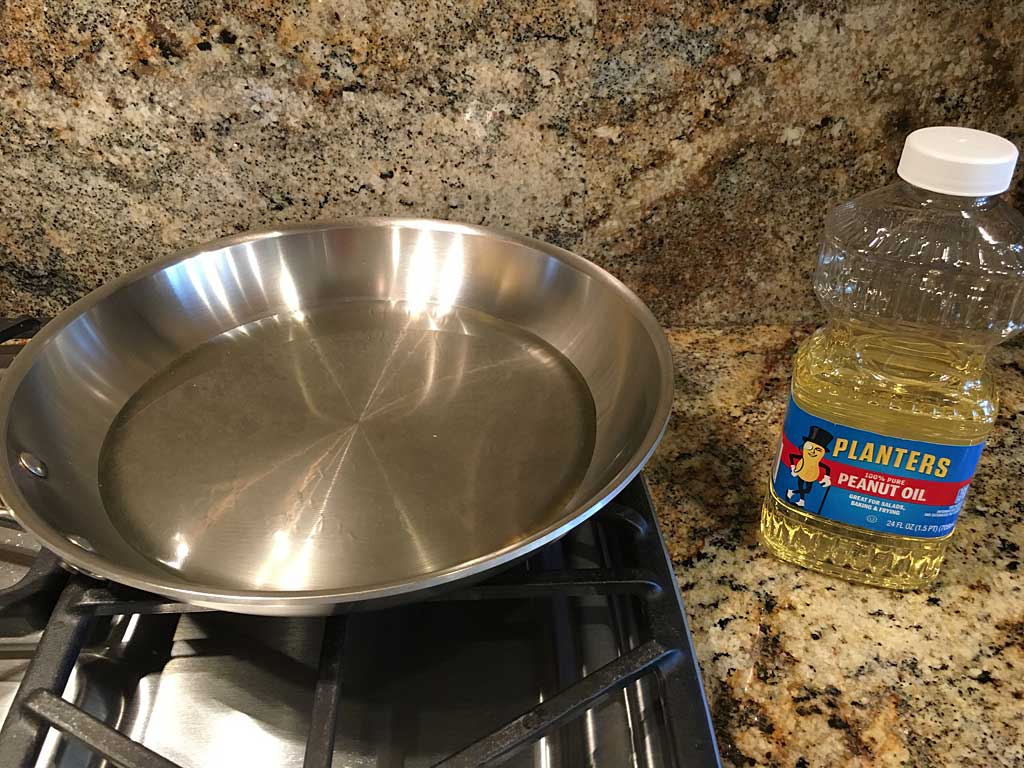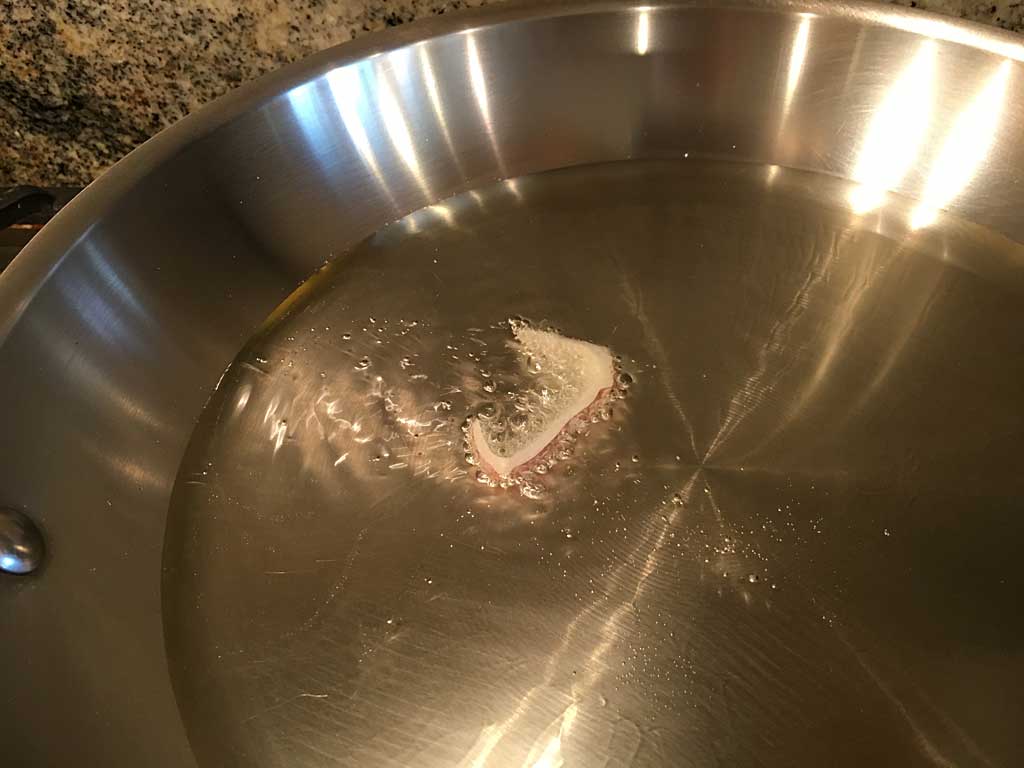 I placed the oil in a large skillet over medium-high heat, testing the oil with a small piece of shallot. When it sizzled, I carefully added the rest of the sliced shallots and turned the heat down to medium. The shallots should fry at a moderate pace, not vigorously. Stir frequently. If the shallots are turning brown after 5 minutes, they're cooking too fast—reduce the heat.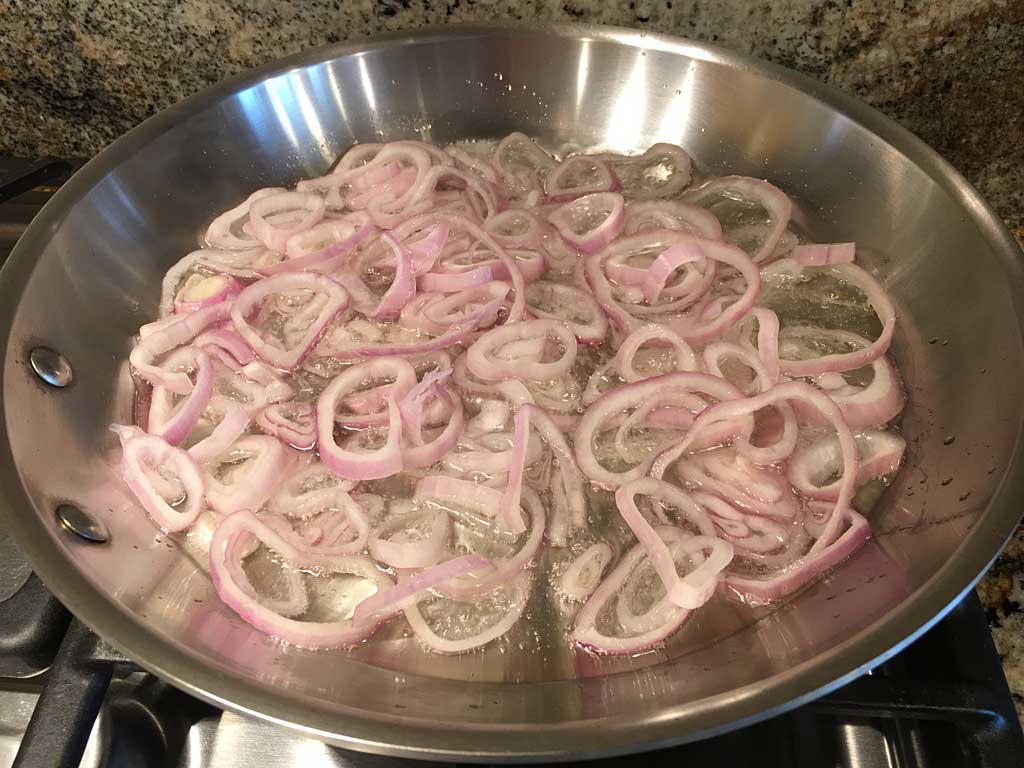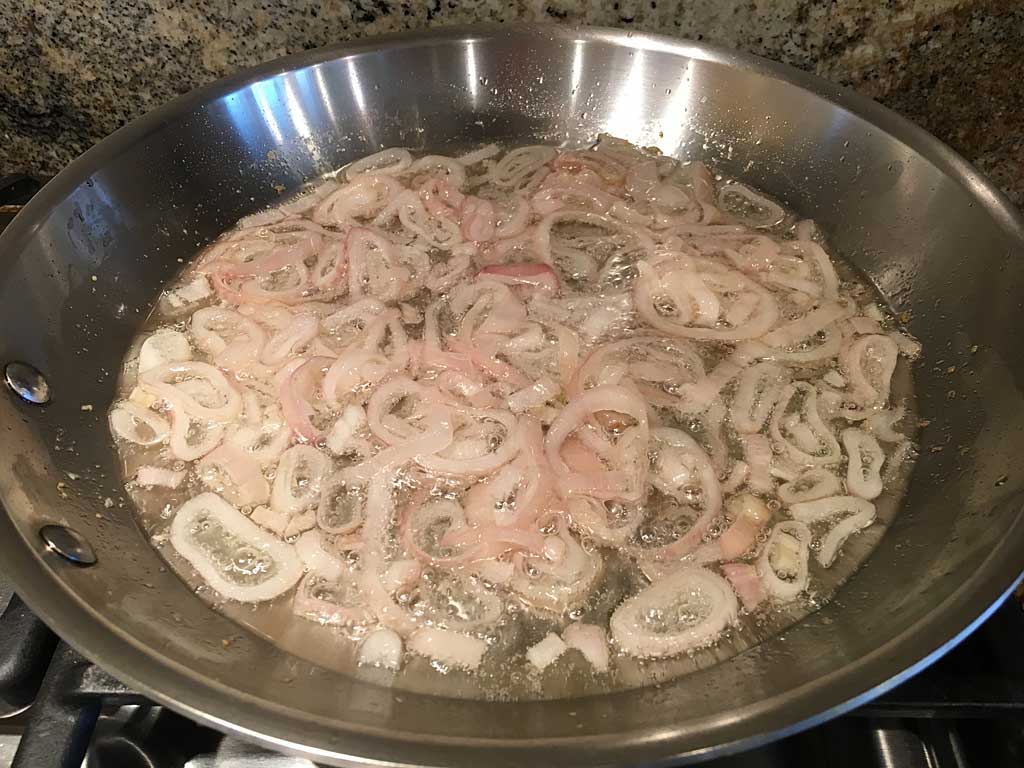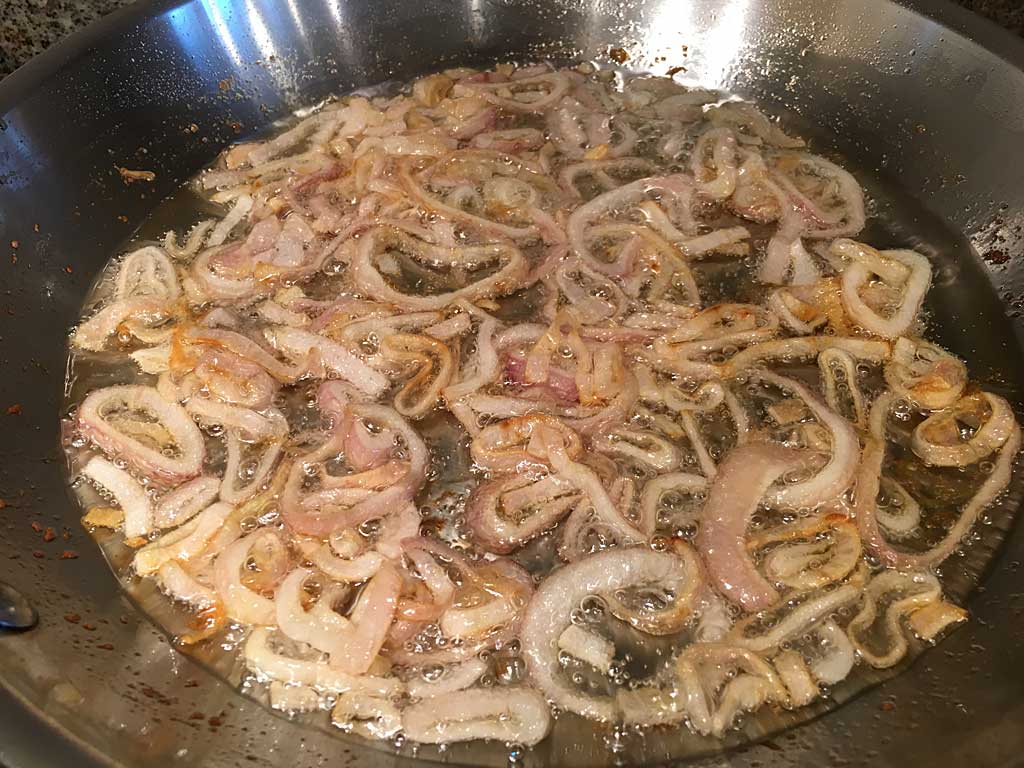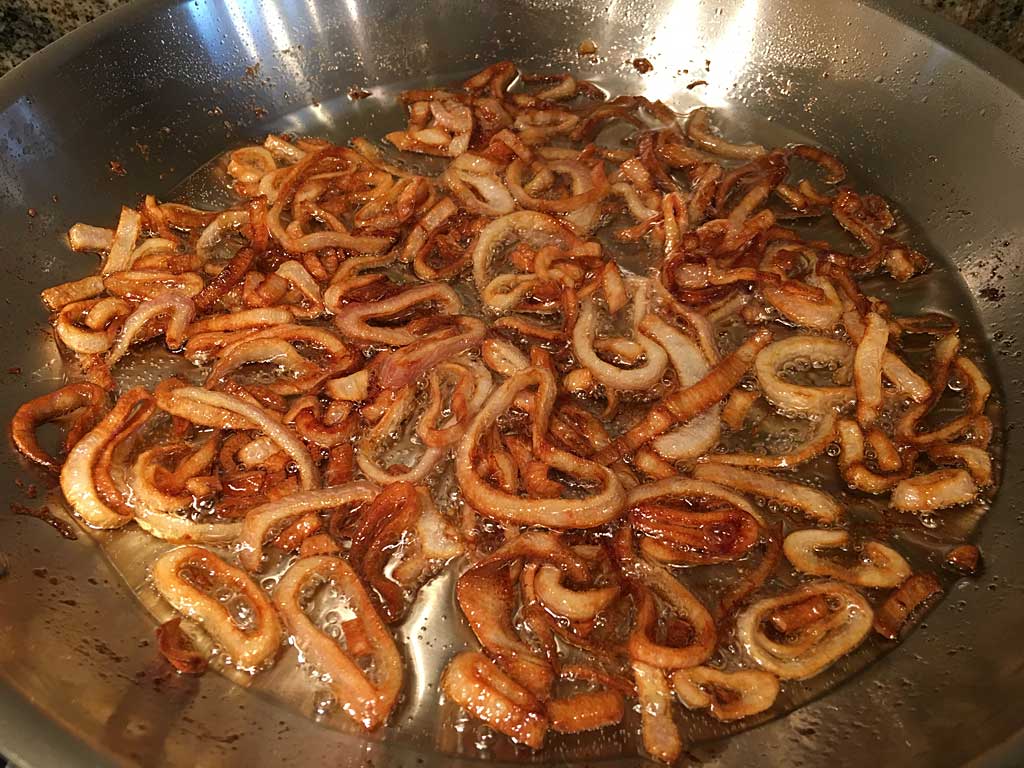 The shallots should go slowly from translucent to golden to brown and take about 15 minutes.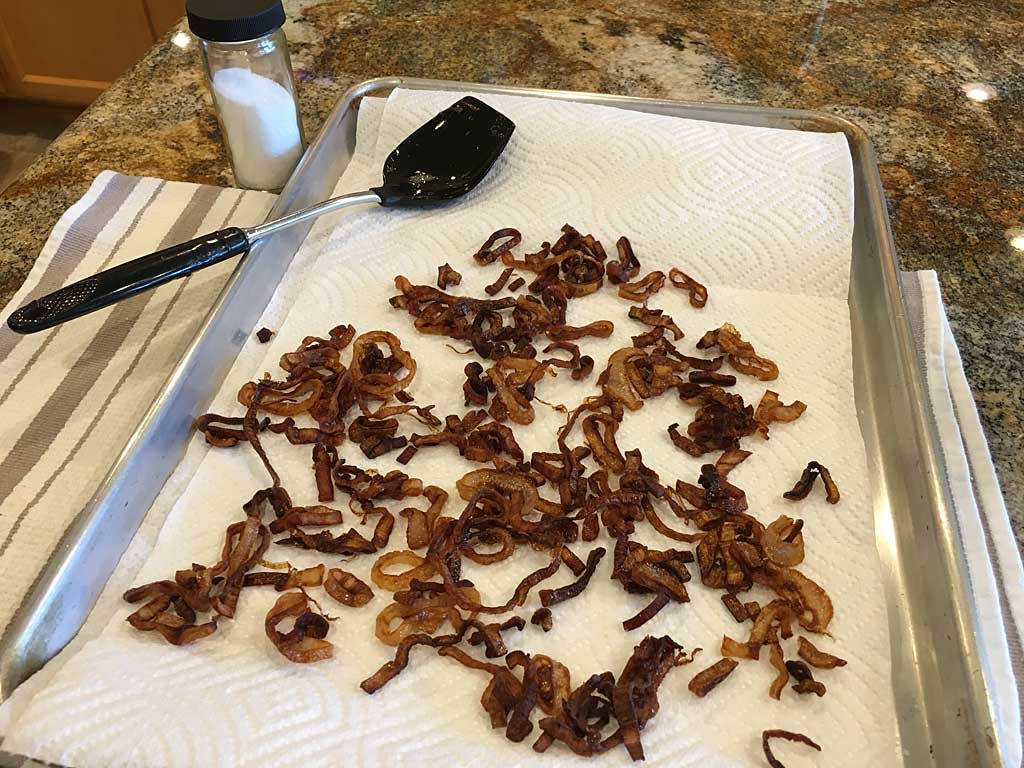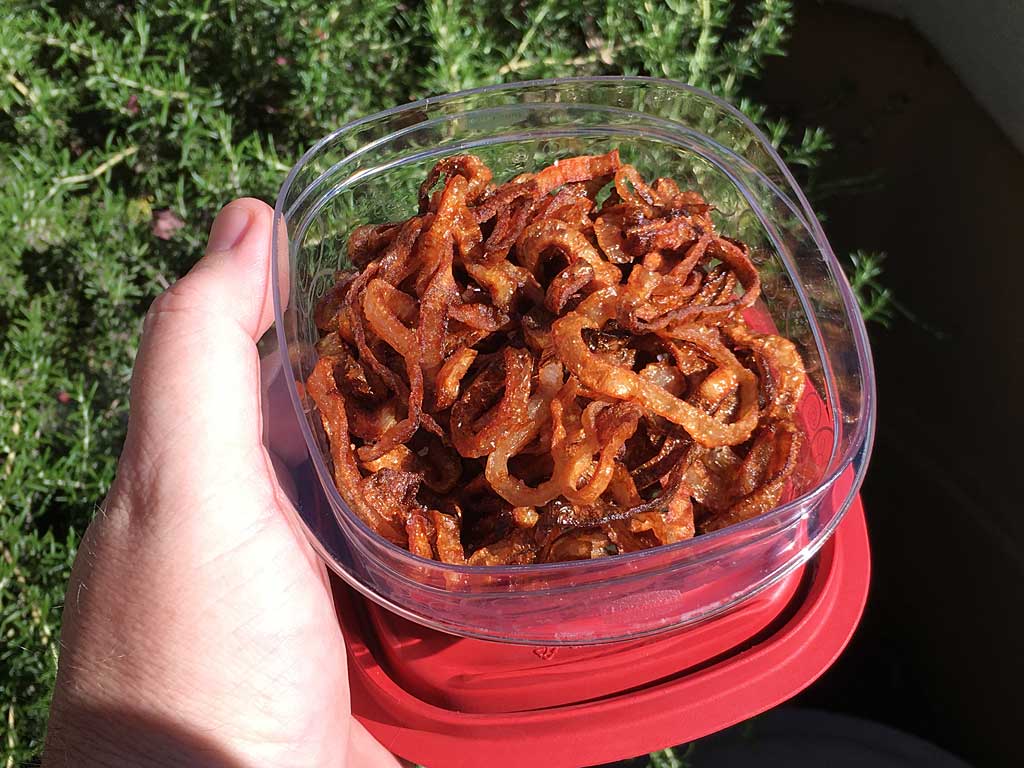 Use a slotted spoon to transfer the fried shallots to a paper towel-lined plate or sheet pan. Shake off excess oil, blot with paper towels, sprinkle with a touch of salt, and let cool at room temperature for 5-10 minutes until crisp. Store these guys in an air-tight container and use in a salad, as a garnish on anything, or even as a snack.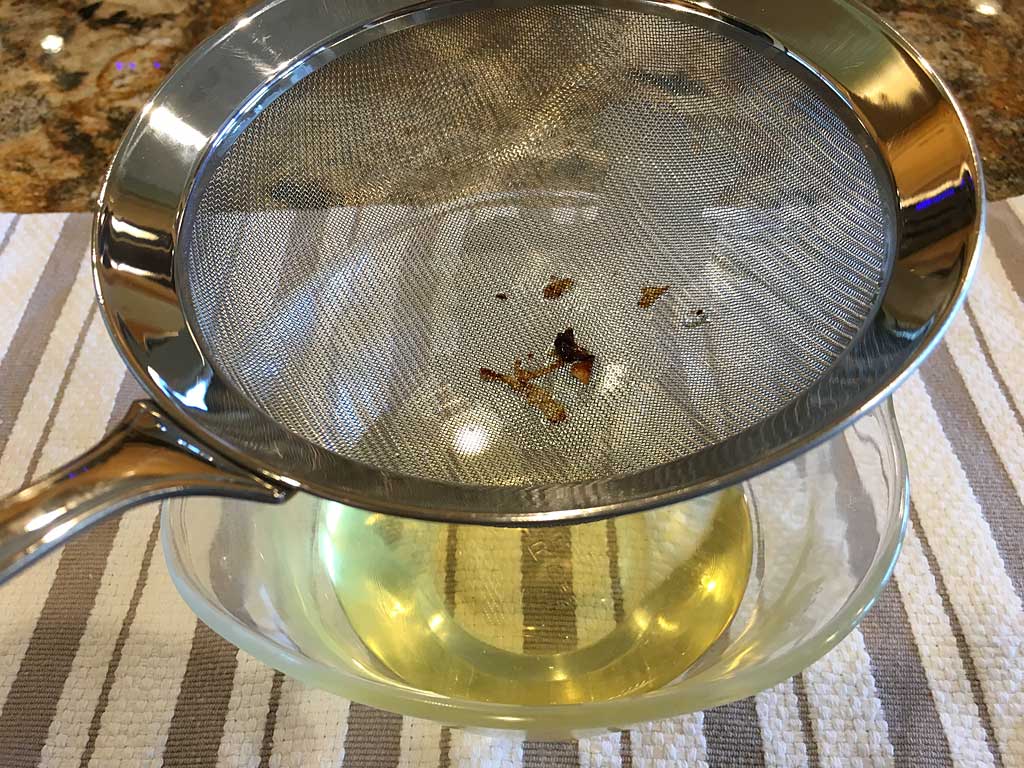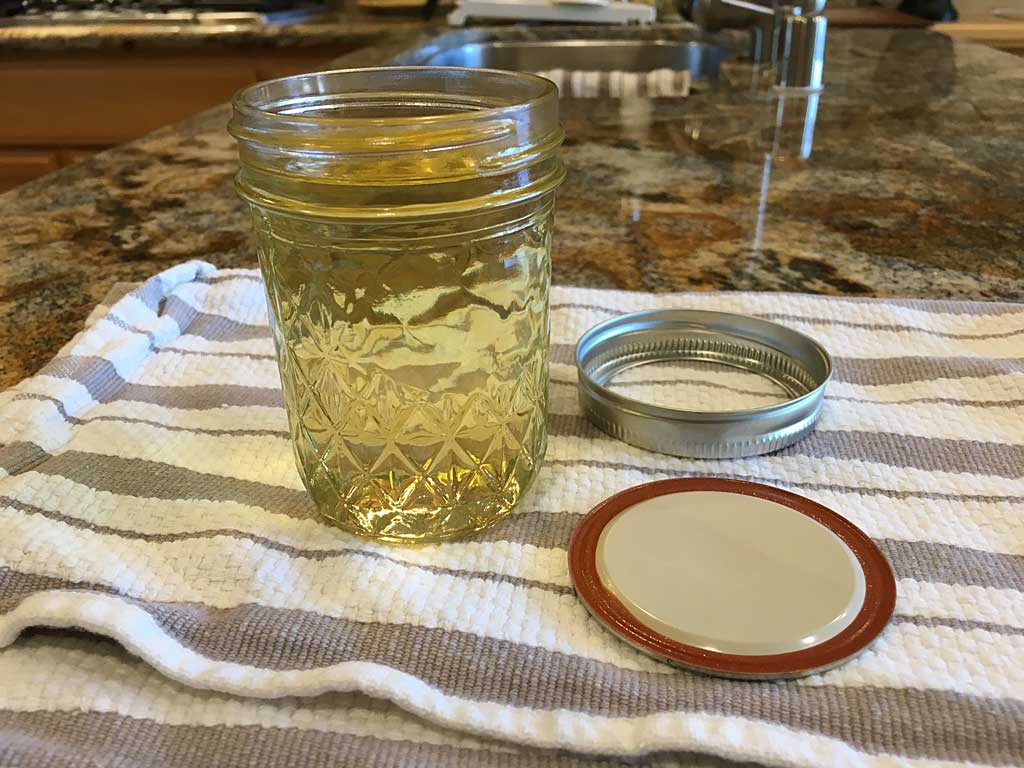 Now, turn your attention to the flavored oil. Strain the oil to remove any bits of shallot and store in a cool place or refrigerator in an airtight container.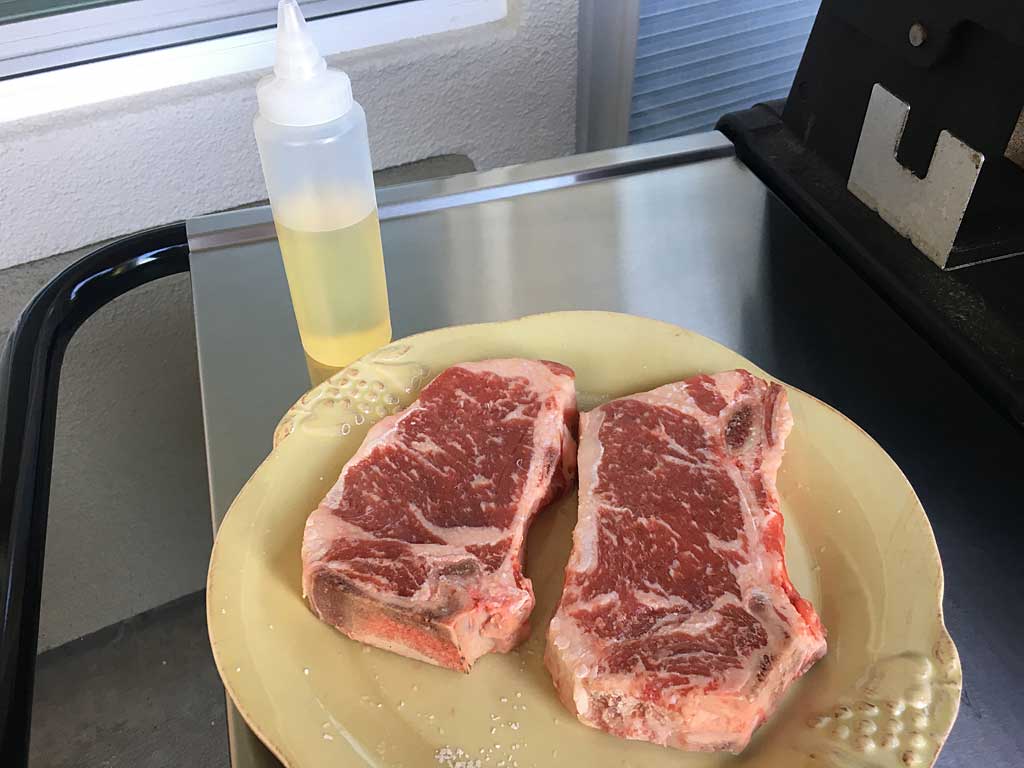 With oil now in hand, I proceeded to buy two beautiful bone-in New York strip steaks. I sprinkled both sides with kosher salt and left them in the refrigerator for an hour so the salt had a chance to flow into the meat.
While I preheated my Weber Summit 450 on MEDIUM, I removed the steaks from the fridge and patted both sides dry with paper towels (removing excess surface moisture after salting promotes better browning of the meat). I also placed some of the room temperature shallot oil into a squirt bottle for easy application to the steaks.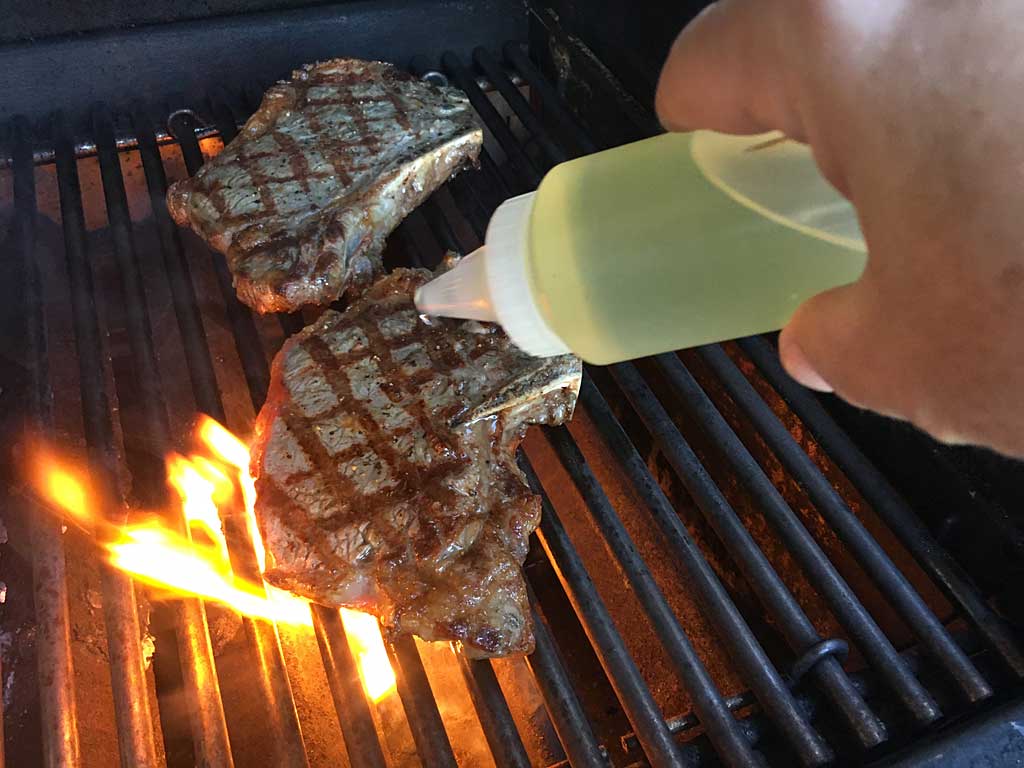 After grilling the steaks for a couple of minutes on each side, I started turning the steaks every minute and applied a shot of oil several times to each side. I cooked these steaks for about 10 minutes to an internal temp of 135°F, somewhere between medium-rare and medium doneness.
The steaks were delicious and the shallot oil added a really nice flavor that my wife and I enjoyed very much. And my wife devoured those fried shallots as a tasty snack!
Yes, making shallot oil takes some effort, but the results taste great. Not only can you use this oil on steaks, but also for stir-frying and for any purpose where a mild onion flavored oil would be appropriate.