Last week I posted about the latest, greatest Weber cookbook for 2017 titled Weber's Greatest Hits plus other great Weber cookbooks going back several years.
This week, let's wrap-up with more new 2017 grilling cookbooks that you might consider adding to your cooking library.
New 2017 Grilling Cookbooks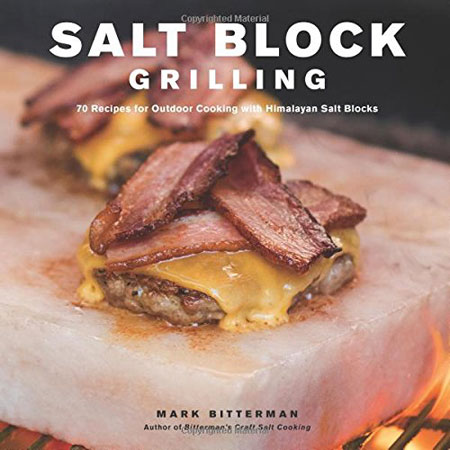 Salt Block Grilling: 70 Recipes for Outdoor Cooking with Himalayan Salt Blocks
Amazon.com says, "Over 70 all new recipes for grilling traditional and nontraditional dishes on a Himalayan salt block from salt expert and best-selling author of Salt Block Cooking, Mark Bitterman.
"Everyone who loves the excitement and pleasure of discovering new cooking techniques will enjoy this guide to grilling and entertaining with salt blocks. The introduction is your salt block owner's manual, with everything you need to know to purchase, use, and maintain salt blocks with confidence. The six chapters that follow are divided into over 70 recipes organized by key ingredients: Meat, Seafood, Poultry, Vegetables and Fruit, Dairy, and Doughs. You'll find recipes for Salt Seared Smoked Pork Belly, Lamb Satay with Mint Chutney and Spicy Peanut Crumble, Salt Seared Tuna Nicoise Salad, Hot Salted Edamame with Sesame, Shiso, and Szechuan Pepper, and Salty, Smoky Walnut-Chocolate Chunk Cookies."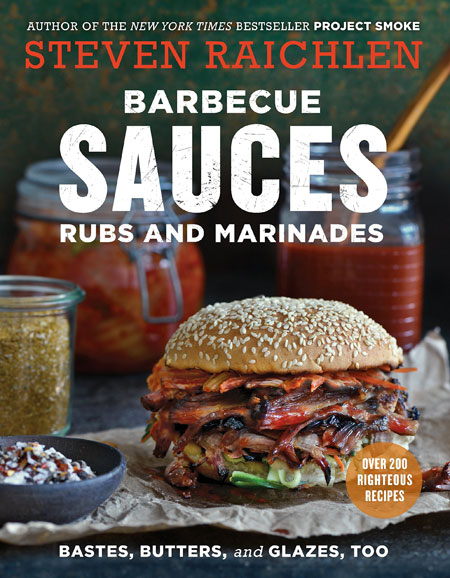 Barbecue Sauces, Rubs, and Marinades–Bastes, Butters & Glazes, Too
Amazon.com says, "Barbecue sauces, rubs, and marinades are every griller's secret weapon—the flavor boosters that give grilled food its character, personality, depth, and soul.
"Steven Raichlen, America's "master griller" (Esquire), has completely updated and revised his bestselling encyclopedia of chile-fired rubs, lemony marinades, buttery bastes, pack-a-wallop sauces, plus mops, slathers, sambals, and chutneys. It's a cornucopia of all the latest flavor trends, drawing from irresistible Thai, Mexican, Indian, Cajun, Jamaican, Italian, and French cuisines, as well as those building blocks from America's own barbecue belt.
"There are over 200 recipes in all, including a full sampler of dinner recipes using the sauces. And the book now has full-color photographs throughout. It's the essential companion cookbook for every at-home pitmaster looking to up his or her game."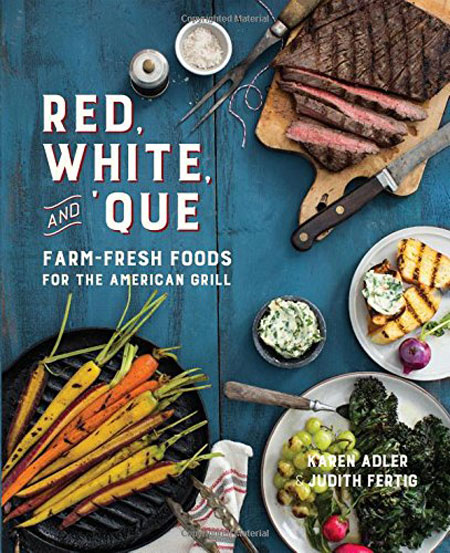 Red, White, and 'Que: Farm-Fresh Foods for the American Grill
Amazon.com says, "For all-American flavors, look no further than your own backyard garden for meals that are grill and barbecue-friendly: all hail the red, white, and 'que!
The authors of The Gardener and the Grill are back in the backyard with garden-fresh grilling like never before. Each recipe makes the most of seasonal American ingredients and flavors like bourbon, blackberries, country ham, maple syrup, pomegranates, craft beer, and sweet onions. Throw these recipes on the grill:
Ember-Roasted Brussels Sprouts
Barbecuer's White Bean Cassoulet
Planked Chicken Breasts with Chile Lime Sofrito
Root Beer Ribs
Grilled Banana Splits
Great grilling techniques like ember roasting and flavored wood smoke make each recipe perfect for date nights, family dinners, and tailgate parties.
Celebrate the magic of the grill year round, with vegetables straight from the American garden.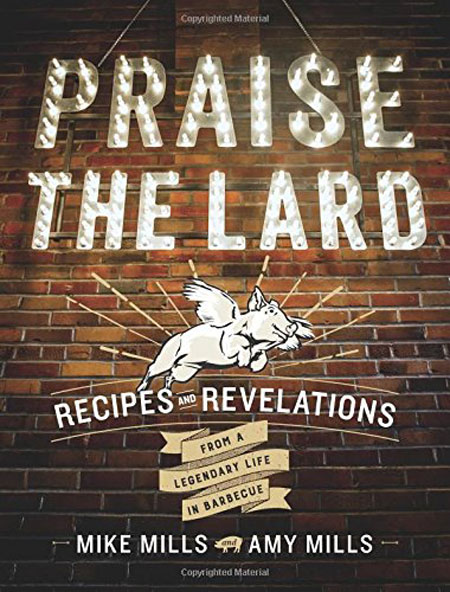 Praise the Lard: Recipes and Revelations from a Legendary Life in Barbecue
Amazon.com says, "Mike Mills and Amy Mills, the dynamic father-daughter duo behind the famous 17th Street Barbecue, are two of the most influential people in barbecue. Known as "The Legend," Mike is a Barbecue Hall-of-Famer, a four-time barbecue World Champion, a three-time Grand World Champion at Memphis in May (the Super Bowl of Swine), and a founder of the Big Apple Block Party. A third-generation barbecuer, Amy is the marketing mind behind the business, a television personality, and industry expert.
"Praise the Lard, named after the Mills' popular Southern Illinois cook-off, now in its thirtieth year, dispenses all the secrets of the family's lifetime of worshiping at the temple of barbecue. At the heart of the book are almost 100 recipes from the family archives: Private Reserve Mustard Sauce, Ain't No Thang but a Chicken Wing, Pork Belly Bites, and Prime Rib on the Pit, Tangy Pit Beans, and Blackberry Pie. With hundreds food photos, candids, and illustrations, this book is as rich as the Mills' history."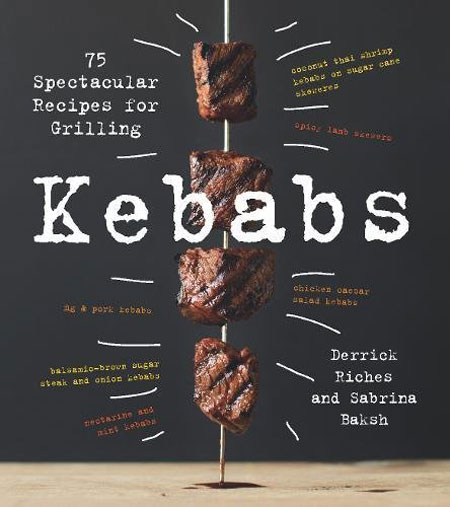 Kebabs: 75 Spectacular Recipes for Grilling
Amazon.com says, "Everyone loves grilling up kebabs, but it's easy to fall into the mushroom, pepper, chicken/beef rut. In Kebabs, Derrick Riches and Sabrina Baksh take this quick and easy grilling method for a brand new spin.
They traveled the backroads of the Barbecue Belt and studied street-food stalls where skewered, grilled foods are most famous, like Greece, Turkey and the Middle East, India, and even Japan (yakitori) and France (brochettes).
There are ample recipes for beef, chicken, fish and seafood, vegetables, and even fruit, plus vegan substitutions are included for meat recipes. Kebabs includes plenty of technique guidance, too. Are metal or wood skewers better for grilling? Do you really need to soak wooden skewers before cooking?
Not to mention a myriad of rubs, sauces, and mops that make kebabs optimally flavorful and moist, Kebabs makes backyard grilling more globally adventuresome, and flavorful, than it's been before — all with minimal prep time and effort.