Welcome to the TVWGG Hot Dog Taste-Off!
We're continuing our taste-off of the best hot dogs for summer grilling. If this is your first visit to the taste off, make sure to read the first installment for details on how we're selecting and judging the hot dogs.
Last week, Oscar Mayer beat Ballpark and Farmer John in the Big Brand Basic Division taste-off. This week, we up the ante by tasting upscale tube steaks from the most recognizable names in hot dogs.
The Big Brand Premium Division
This division includes what some would consider higher quality hot dogs from the biggest names in the business.
Ball Park Angus (Hillshire): $3.98
Hebrew National (ConAgra): $2.98
Nathan's Famous Skinless (licensed to John Morrell/Smithfield): $2.98
Ball Park Deli Style (Hillshire): $3.99
We had hoped for an entire division dedicated to kosher hot dogs, but Hebrew National was the only big brand available in supermarkets in San Jose, California where the taste-off was held. That's why HN has been placed in the Premium Division alongside these worthy competitors.
(Note that in these photos, the hot dogs are always shown in the order listed above.)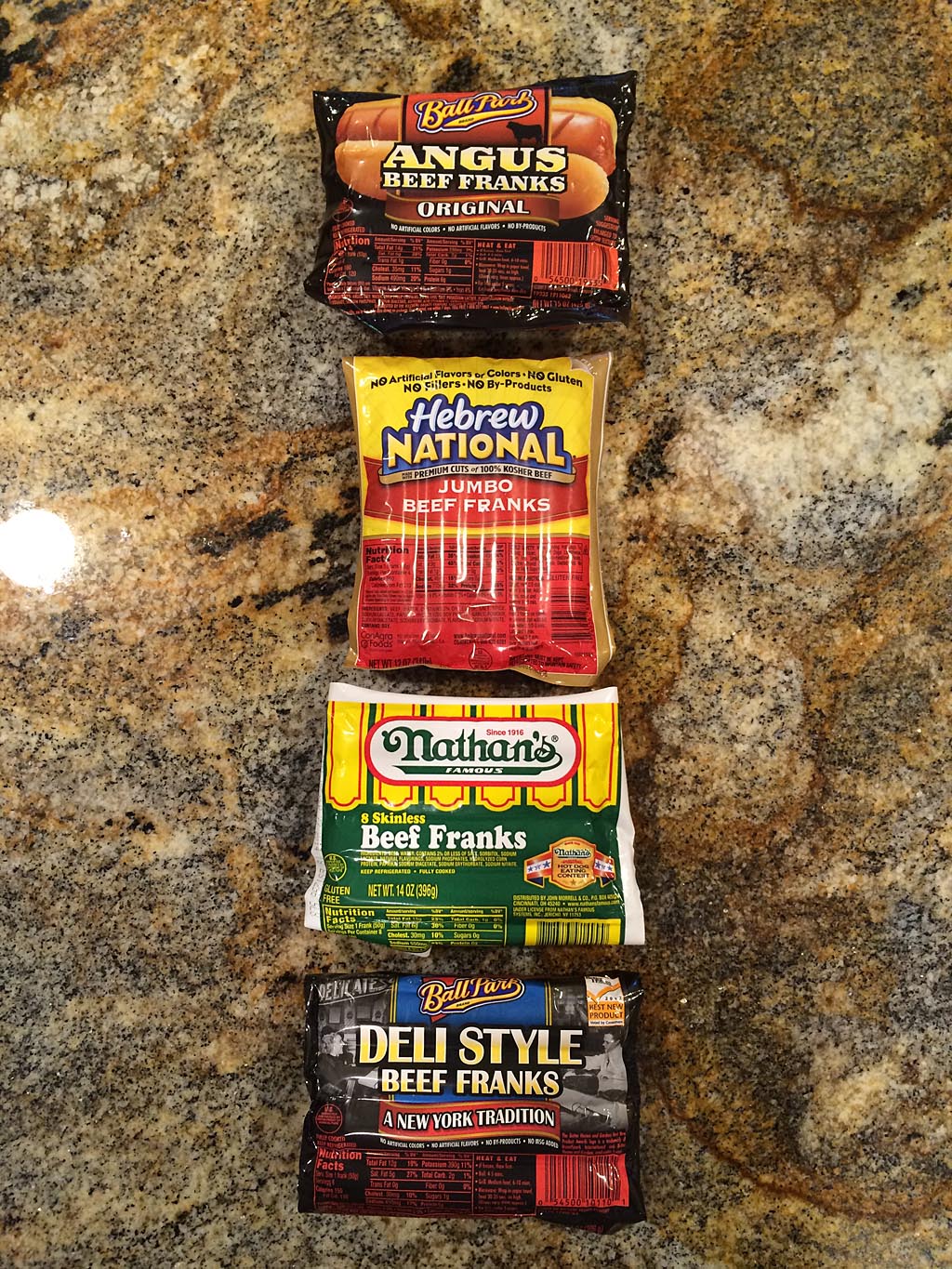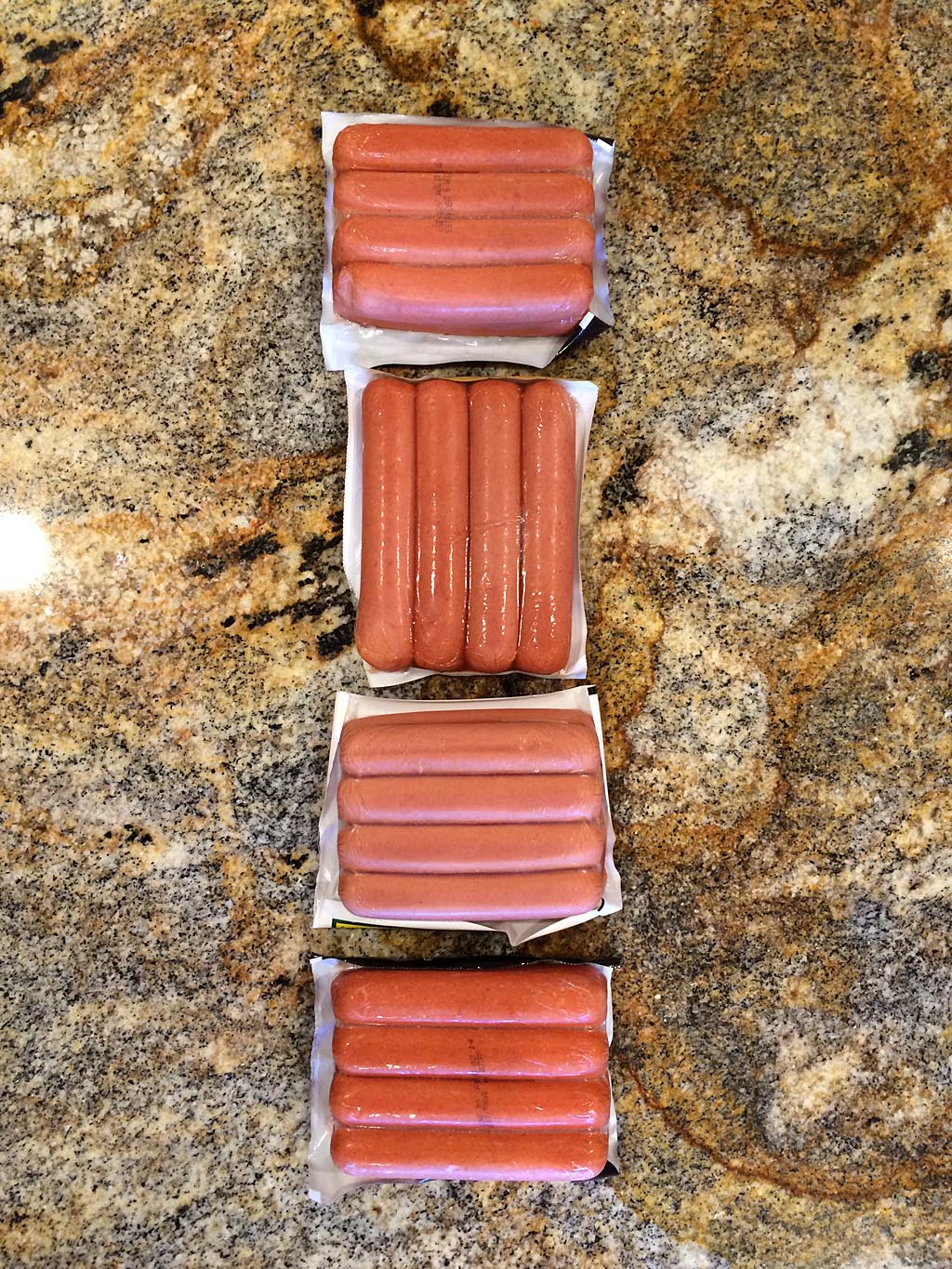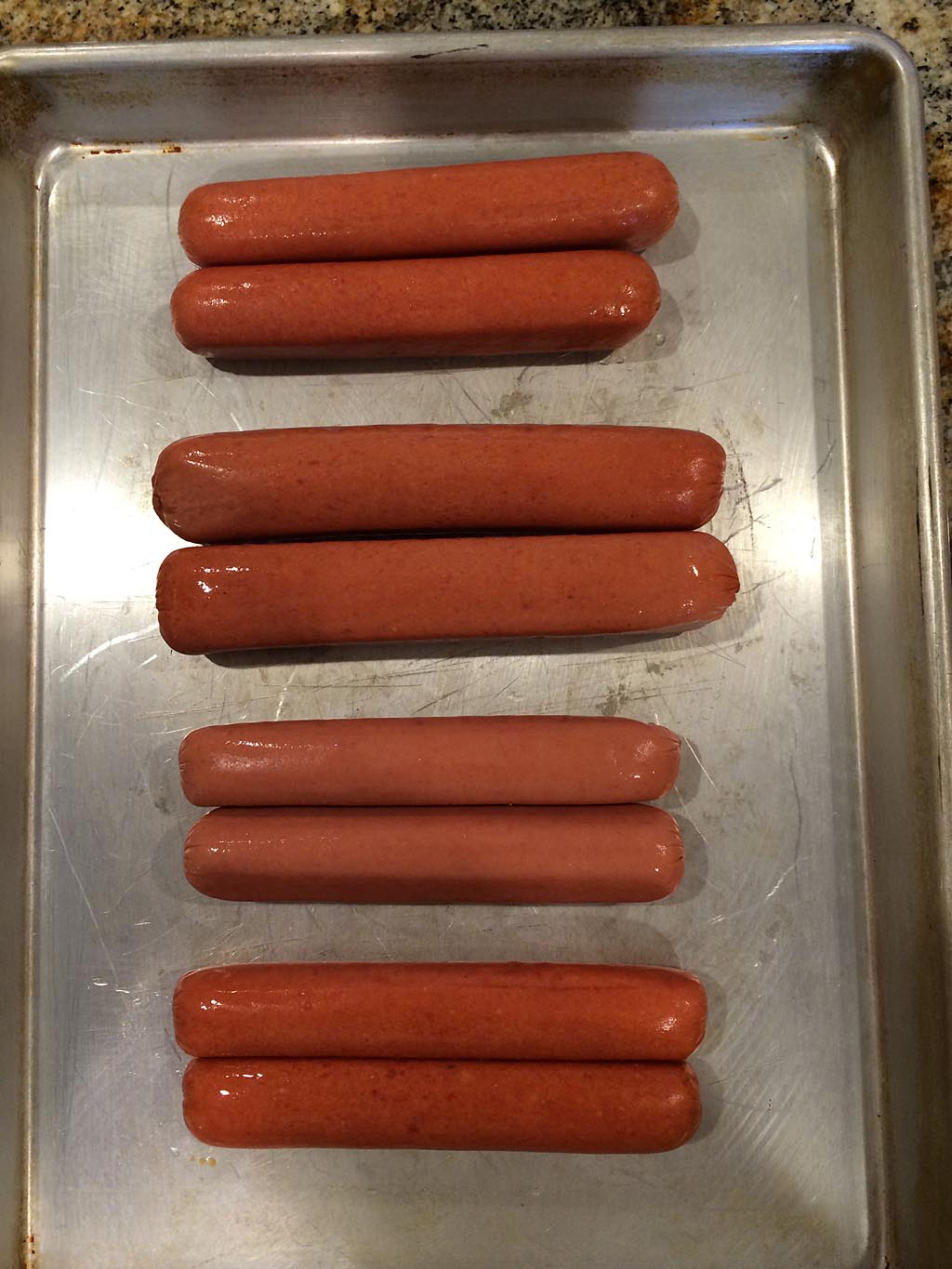 Judges Make Exception For Hebrew National
The Hebrew National hot dogs shown here are 50% larger than the competition, weighing-in at 3 ounces each. The taste-off rules require a standard length hot dog weighing about 2 ounces each. Hebrew National makes a 1.72 ounce hot dog, but it's not readily available in San Jose, California where the taste-off was held. In order to include HN in the competition, the judges made an exception to the rule to allow this larger hot dog.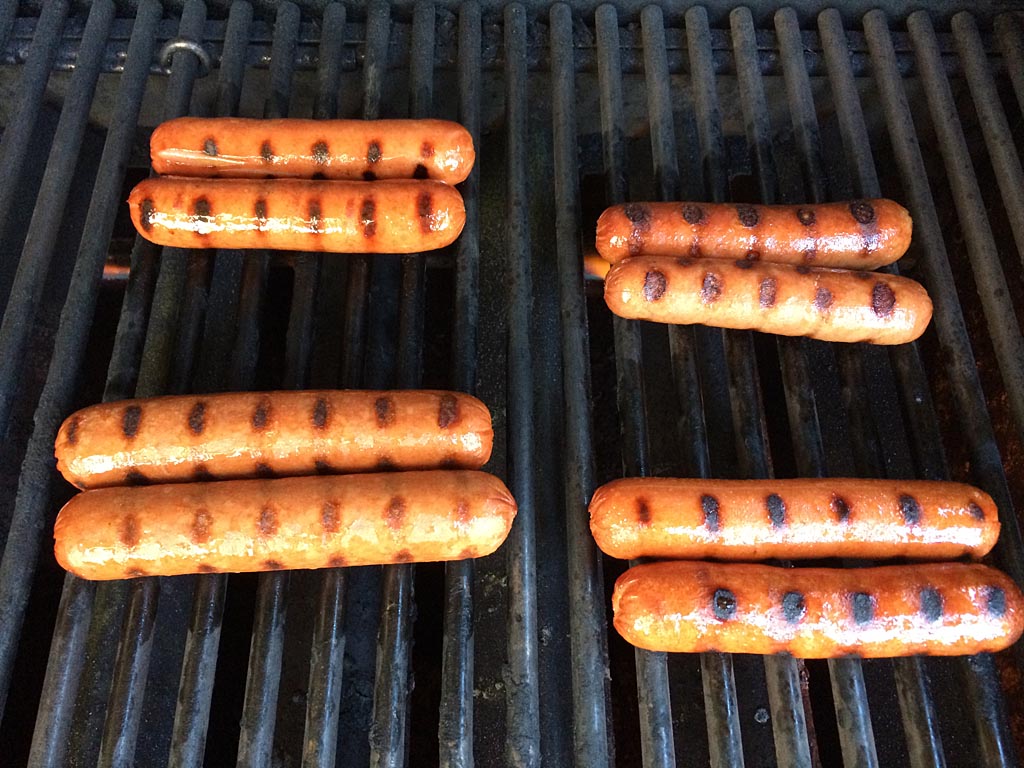 The hot dogs were grilled together and served to the judges.
Once the hot dogs were grilled but not overly cooked, they were brought indoors and immediately judged on appearance, then sampled and judged on taste and tenderness/texture.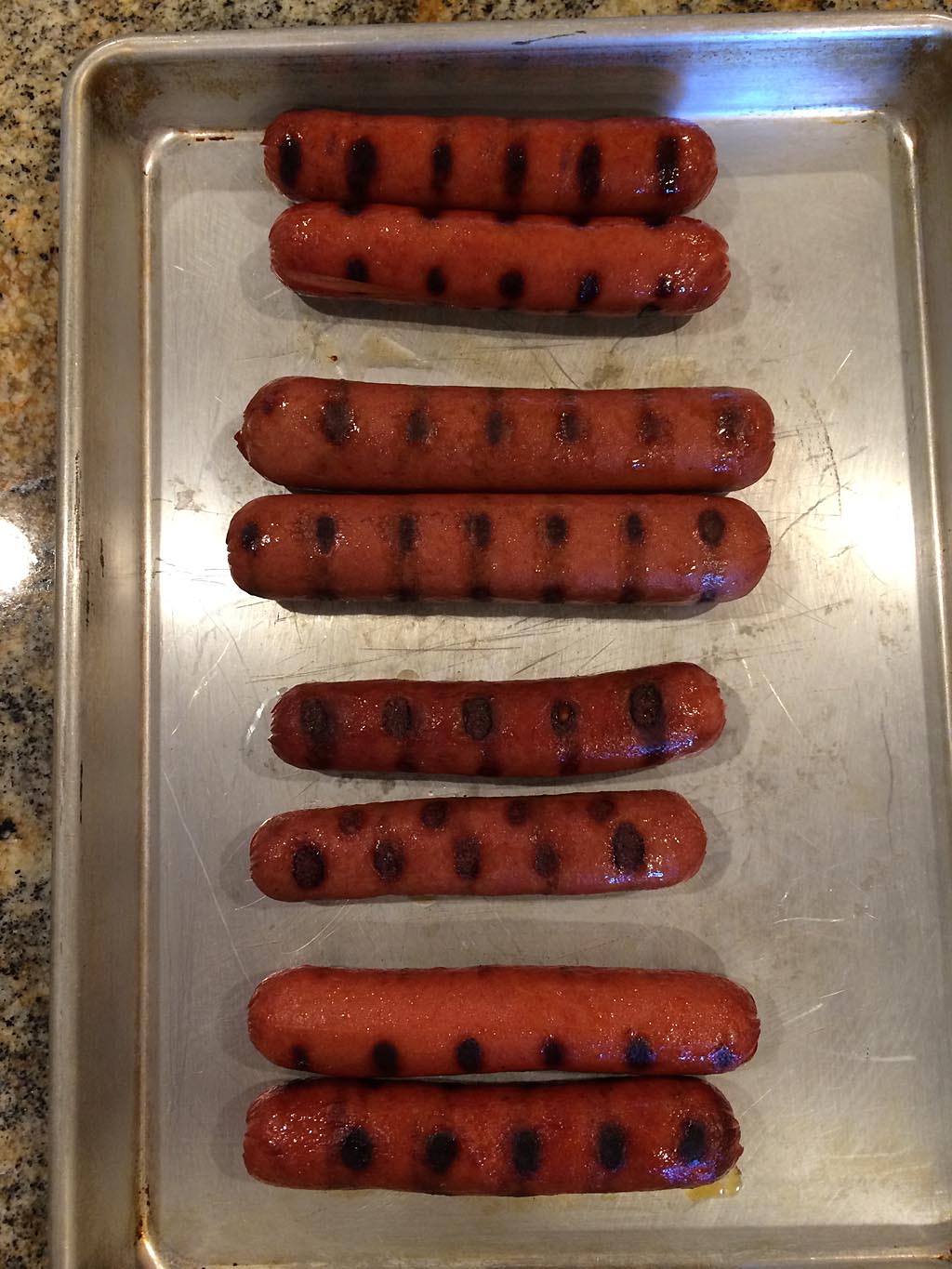 The Results
Ball Park Deli Style sliced up Nathan's Famous by 2.9 points, gored Ball Park Angus by 4 points, and made Hebrew National say "Oy Vey!" by 5.2 points.
Here are the weighted scores:
Ball Park Angus: 61.68
Hebrew National: 60.5828
Nathan's Famous Skinless: 62.88
Ball Park Deli Style: 65.7372
Judges' Comment Cards
Ball Park Angus: Good color; salty; mushy
Hebrew National: Looked bland, tasted bland; good texture
Nathan's Famous Skinless: Not the best color; good balance of salt and spices; good texture
Ball Park Deli Style: Nice color/sheen; excellent spicy flavor; good texture
So Ball Park Deli Style is the winner of the Big Brand Premium Division! Stay tuned for our next division contest: The Almost Organic Division.
All Taste-Offs